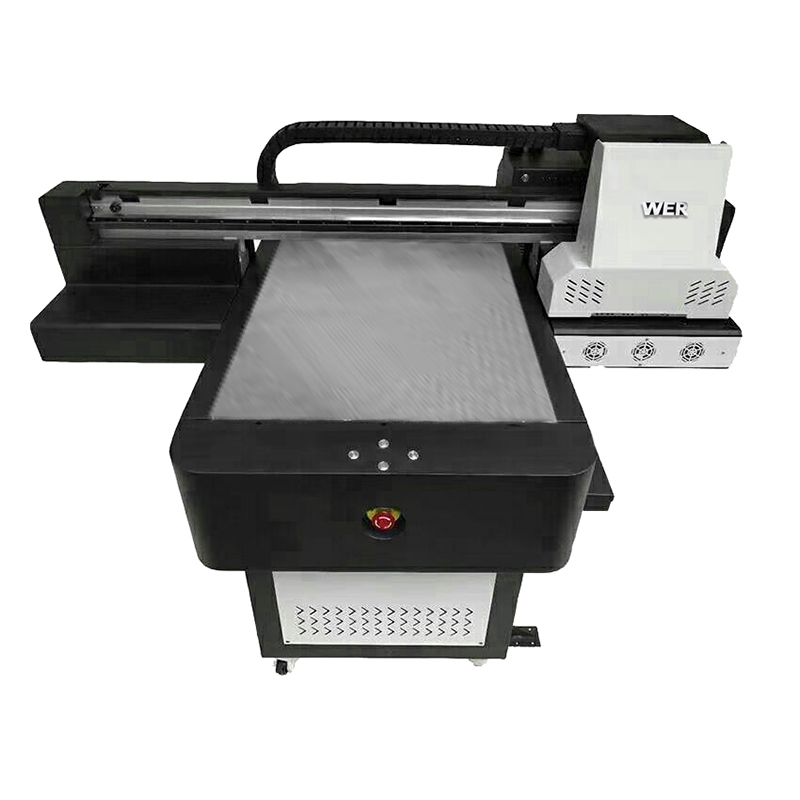 PRODUCT  SPECIFICATIONS
---
Print Head Type

Ricoh GEN5
Print Head Quantity
Uni-color 2*1(2pcs)    4*1(4pcs)    2+2(4pcs)    4+2(6pcs)    Bi-color 2*2(4pcs)
Printing Precision
300dpi
Printing Speed
Draft Mode 2PASS          Uni-color(105pc/h)     Bi-color(189pc/h)
Standard Mode 3PASS    Uni-color(84pc/h)      Bi-color(151pc/h)
Quality Mode 4PASS        Uni-color(68pc/h)      Bi-color(122pc/h)
Printing size
4 work station 520*420mm(Adult board)
Color Control
ICC Based Color, Curves and Density Adjustment Function
Ink-jet technology
Laminated drop on-demand piezo and gray-scale printing technology
Ink type
Pigment ink
Color profile
4 colors:K+C+M+Y
Printing media
Cotton fabric
Interface
USB3.0
RIP software
ULTRA PRINT
Image format
Tiff, JPEG, EPS, PDF
Drive System
AC high precision servo motor
Power Specification
AC220V±5%  50HZ>20A
Printer Dimension
2410(L)X2730(W)X1465(H)mm
Package Dimension
3000(L)X2280(W)X1630(H)mm
Printer Net Weight
620KG
Operational Environment
Temperature: 20°C-35°C (68-95°F); Humidity: 30-70 % RH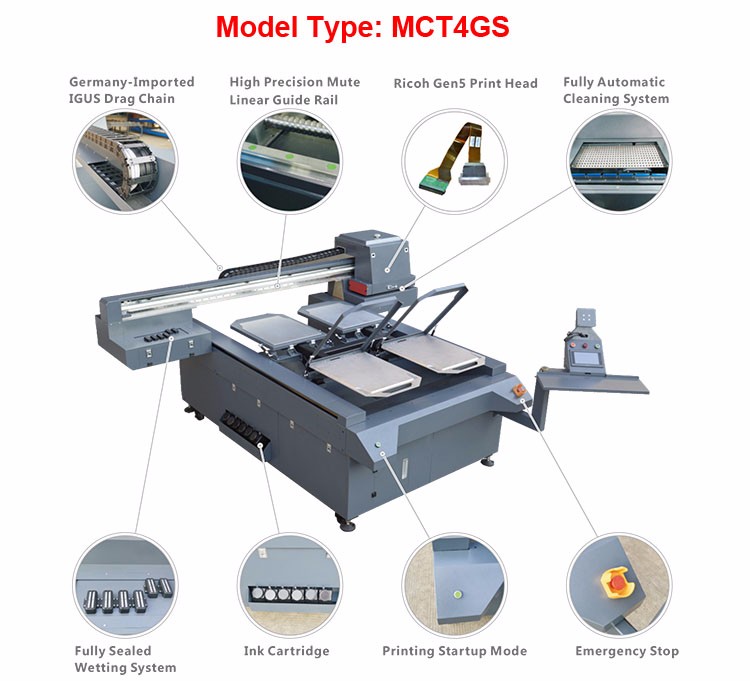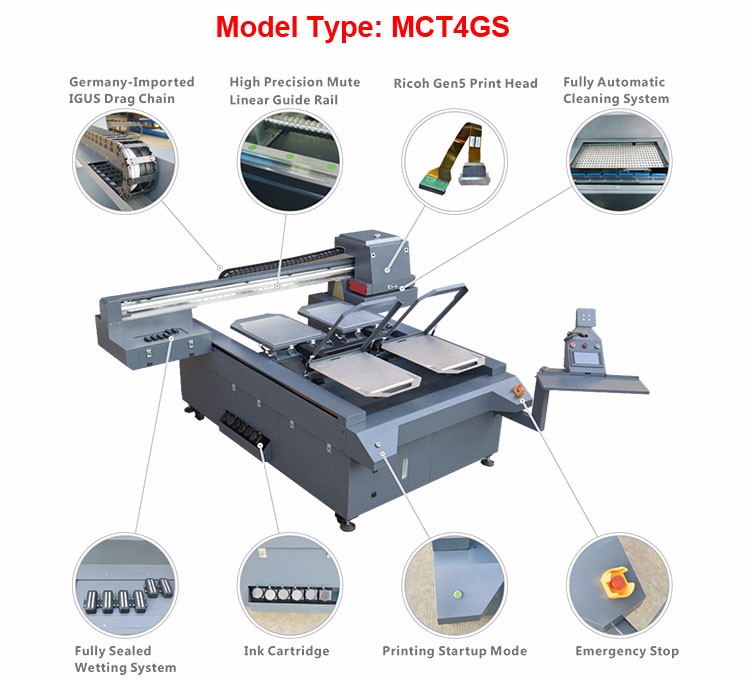 Product Features:
---
1.All Steel Frame Structure
Applied all steel frame structure, better-structured frame made it more stable and keep high precision.
2.High Performance Lead Screw
Imported high speed mute screw, high-precision, low noise, wear proof and precise positioning.
3.Self-developed and cold-drawn aluminum gantry with high strength
The gantry is made of international aerospace series aluminum with high strength and is processed by imported CNC equipment, which can ensure stability and the printing precision 25% higher than average level in the industry.
.
4.User-friendly operation system
This system integrates the on and off button, alarm device, touch screen and computer control which make the display effect more specific and has a supporter which can revolve freely and make it easy to operate. One person is enough to independently operate the machine.
5.Media thickness auto-measure system
This system can automatically measure the height between the print head and printing media so as to get the best printing height and make every drop of ink reach to its right position. This also can avoid the equipment damage caused by errors of manual adjustment.
6.Fully sealed wetting system
This system adopts top sealing ring which is made of high-elastic polymer rubber and has suitable softness and fit well with the surface of print head. This system can ensure the moisture of the nozzles and avoid the clog of nozzles so as to extend the life span of print head.
7.Anti-collision System for Print Head
Equipped with unique anti-collision system for print head, it is easier to adjust for different media, can avoid any chances to damage print head by any misoperation and ensure workers' safety.
8.T-shirt adjustable placement and fix system
This system adopts advanced gas spring which is flexible, highly controllable and easy to operate. It can also fix the T-shirts very well with no wrinkles so as to improve the printing precision.
Applications
---
WER UV flatbed printers are widely used in a variety of industries:
Advertising industry: ABS, Polyurethane, PET, Acrylic, MDF, PVC, etc. for signs, banner, backlight, tags, etc.
Leather industry: Authentic leather, fake leather, PU, etc. for shoes, bags, cases, etc.
Background wall: Glass, tiles, aluminum, wood, paper, etc.
Furniture industry: Wood, glass etc. for cupboard, sofa, doors, etc.
Electronic accessories: Mobile phone cases, industrial products cases, etc.
Gifts printing: Plastics, USB memory card, Stone, Pens, name card case, glass arms, wrist watch belt, wrist bands, etc.
Decoration: Exhibition stand decoration, home decoration, wallpaper, hotel decoration, etc.
Industrial printing: membrane switch, touch panel, home appliance printing, etc.
Quick Details
---
Condition: New
Place of Origin: Shanghai, China (Mainland)
Brand Name: WER
Dimensions(L*W*H): 2410(L)*2730(W)*1465mm(H)
Gross Power: 3KW
Plate Type: Flatbed Printer
After-sales Service Provided: Engineers available to service machinery overseas
Weight: 620kg
Automatic Grade: Automatic
Color & Page: MULTICOLOR
Certification: CE ROHS
Usage: Cloths Printer, t shirt printing machine
Voltage: 220V
Printer type: Digital t-shirt printing machine
Print head type: Ricoh Gen5
Printing precision: 600*1200dpi 4 pass
Printing size: 4 work stations 520*420mm
Ink type: Pigment ink
Color profile: KCMY
Printing media: Cotton, fabric
Image format: Tiff, jpeg, eps, pdf, etc.
Ink-jet technology: Laminated drop on-demand piezo and gray-scale printing technology
Color control: International ICC standard