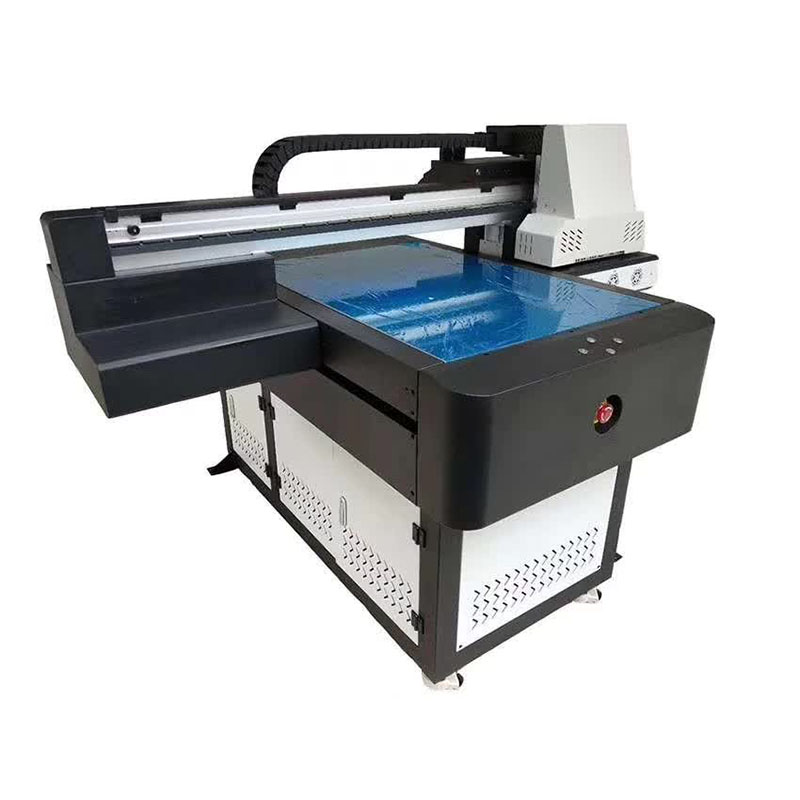 Product Description
---
DTG6090 Printer is made from high-end materials that have passed inspection. DTG6090 is a durable double-platen or multiple- platen garment printer, its maximum platform size is 600*900mm. It produces the highest quality images on many types of garments, especially 100% cotton and high-cotton blend t-shirts. Combined with Apex-jet PhotoPrint software, this printer is an easy-to-use and easy-to-maintain industrial garment printer.
Features:
---
*High Speed;Easy Operation
*Auto Platen Height Adjustment
*Verstaile 4 - 2 -1 platen system
*White Ink Printing on Dark T-shirts
*Industrial Performance
*Real Color Printing
*One year warranty
Cloths Platen:
Multiple cloths platens are available
4 small platen: 40.9cm x 23.6cm (16'' x 9.3'')
2 large platen:51cm x 37.5cm (20'' x 14.8'')
Or 1 small platen + 1 large plate
CMYKW Textile Ink:
Vivid color, high color concentration, clear-cut dot
Excellent adaptability, excellent on-machine Printing quality
PhotoPrint Software:
*White ink options – full background, under color, or spot color
*Allows you to add your own ICC color profiles to the RIP
Repeat Function allows you to copy artwork for multiple product prints
Service & Warranty
---
Our Service:
Remote support online engineer service ,telephone support,teamviwer and skype meeting.
Hours of operation for remote support :CN Time:09-18:00(Monday to Friday).
On-site Training:
Send technicians for on-site training of "Printer" about installation and solution for common problems but expenses of transportation and accommodation etc shall be borne by customer (please inform us for technical support ahead of 25 days at least).
The training will be divided into 2 section:
1)End -user-training will contain the introduction of machine, how to install software,installation of machine,how to operate the machine,and machine maintenace,and the trouble-shooting ,and how to print.
2)Advanced training:How to replace the parts,how figure out the problem and how to solve it ,We will make specific training of the operational principle and setting.
After-Sales Service & Guarantee
Free pre-sales training, the customer is free to come to our factory to learn untill can use the machine.The machine, except the printer head that are not within the warranty, the whole machine with warranty for one year. Apart from the quick-ware parts, warranty service will be honored if the damage is not caused by human. Machine set up training is free, we provide video training,with technical consultant.
We cooperate with various technical support for customer of production process,transfer process etc.Provide color management professional technical support, the software of upgraded is free of charge. Service hour: CN Time: 09:00-18:00 (Monday to Friday).
Why Choose WER
---
WER is the sub-brand of Microtec Technology Group that develops, manufactures and markets a new high Cost Performance Solution in UV prints industry.As an dynamic brand, APEX is strongly backed by seasoned professionals with extensive experience in the digital printing industry.Our mission is to produce high cost-effective machines and provide one-stop service, including full ranges of printing substances supply. At the same time, Apex is positively establishing distributor network all over the world by providing high Cost Performance machine and comprehensive service.
Top Twelve Reasons for buying WER:
1. 17+ years manufacturing experiences
2. ISO9001:2008 certified leading manufacturer
3. Owns more than 25000 square meters & 320 employees
4. CE and FDA & US Proposition 65 SGS approved
5. Strong technical supports on OEM & ODM services
6. Door to Door installation & maintenance
7. Constant R & D
8. Double Quality Control
9. International shows
10. 24-7 on line
11. Life time maintenance.
12. Worldwide agents
FAQ
---
1. Do the packing content contains software?
YES
2. What' the different between the air cooling and water cooling system?
Water cooling system is much faster to cool down the UV LED. And its working noise is lower. Water cooling system is suitable for longer hour using, and large size printing, compared to air cooling, it will prolong the service life of UV LED.
3. Do any special system for white ink?
Yes, we do white ink mixing system.
4. What's the damper?
Damper connects the ink tube and the printer head. It will stock some ink from the ink, and lower the pressure of ink. So it will help to protect the printer head.
5. What's the consumable you recommend to take?
Dampers, cap top, wiper, and fuse. Some specific item, please contact online service.
6. Can this printer print on mug?
Yes, cylinder, conical, and cup with handle are all available.
7. Shipping cost?
Depends on your shipping address.
8. What's RIP installation interface supported language?
Korean, German, French, Finnish, Dutch, Portuguese, Japanese, Spanish, Italian, English, Chinese (Simplified), Chinese (traditional)
9. Software supported format?
TIFF,JPEG,PNG, etc
10. Waiting for translation ......
Waiting for translation ......
11. Do this printer print white ink and color ink at one pass?
YES
12. Need coating/ primer/ pretreatment solution before printing?
Only some material: Metal, glass.
13. What Jig or Mold can you offer?
Golf ball, iPhone 5. 6 phone case, and pens, etc, (Size is 40*60cm, its printable size is 38*58cm, about 15"*22.8")
14. Do the UV4060/UV6090 support adjusting printing distance automatically?
Yes
15. Did this printer work with Photoshop, Ai, etc?
The UV printer comes with RIP software. RIP is a layout software, you can finish the design on Photoshop, then upload the image to RIP to do the printing.
16. How many colors of this printer?
Ink color is: 8 colors: CMYK+WWWW
17. can you suggest your Technique support?
By email, video or online meeting, training in our factory
18. What is the warranty for DTG printer?
Three months for print head, One year for entire machine.
19. Do customers can buy the print head from other companies?
Yes, customers can buy it from local market. Microtec supply it as well.
20. How long it takes for printing 1pc white or black T-shirt?
White T-shirt: about 1.5-2mins Black T-shirt: about 3-4 mins.
21. Can we use Photoshop software to work on DTG printer?
No. DTG printer shall be only used with RIP software, which is included in the machine package already.
22. Which motor does the DTG printer use?
Servo.
23. Will the printed T-shirt be fade by hand washing?
We suggest washing on the reverse side of T-shirt and using the washing machine instead to avoid hand-rub.
24. Can customers buy textile ink from other companies?
Yes, that will be no problem. Our customers can also purchase textile color ink from Microtec and white ink from others like Dupont for better printing effect.
25. How to avoid the print head clogging?
The daily printing job is suggested. Also, please shake the ink cartridge every week to avoid generating sediment.
26. What is the model of print head?
4880 (DX5).
27. What kind of T-shirt material that can be used on DTG printer?
Above 65% cotton.
28. How long it's required for pressing the T-shirt after printed by DTG printer Or curing T-shirt?
For pressing: 60 seconds, 160 degrees.For curing: about 4 mins, 160 degrees.
29. How much capacity of Pre-treatment Solution shall be used for printing one black T-shirt?
It's suggested to use about 8g for a 40x40 printing size.
30. Do you know dimenzion of nozzles and how nozzles have one gun?
1 head have 8 ink channel , per channel 180 nozzles DX5 printer head.
31. Maximum material thickness in mm?
Max. 12cm, adjustable.
32. Head height sensor available?
It with upper limit sensor.
33. Maximum resolution?
User definable up to 2880*1440dpi(Recommend setting:1440x720dpi for color ink).
34. Maximum material size?
60*127cm (effective printing size: 60*125cm).
35. Maximum material weight?
Up to 40kg.
36. What's the printer MAX. print gap?
14CM
40. How about the printing speed?
30" for A4 size.
37. Ink consumption?
USD1.65/sqm~USD2/sqm. (color ink)
38. What is the purpost for Cleaning liquid?
Used for routine maintenance, cleaning waste ink on the printer.
39. How to use the pre-treatment solution?
Only need use a clean cloth wipe the precoat on the material surface.
40. Which kind material need use the pre-treatment solution before we do the printing?
e.g.:Metal, glass, rubber, Aluminum board.
41. Which kind material can print with your UV printer?
Our UV Printer can be printed all color,It's direct printing any material,such as pens,golf balls,phone cases, plastic,acrylic,ceramic,metal,slate,wood,glass and leather,even small things like label, USB, key chains etc.
42. How many ink bottle in the ink case?
Six, four for CMYK, and two for white.
43. How many inks for one set?
CMYKW, 5 liters
Quick Details
---
Condition:New
Place of Origin: shanghai, China (Mainland)
Brand Name: WER
Model Number: DTG6090
Dimensions(L*W*H): 140*130*55cm
Gross Power: 380W
Plate Type: Flatbed Printer
After-sales Service Provided: Engineers available to service machinery overseas
Weight: 146kg
Automatic Grade: Semi-automatic
Color & Page: MULTICOLOR
Certification: CE Certification
Usage: Cloths Printer, Cotton Tee Printer
Voltage: 110V/220V
Name: Digital Flatbed Direct to Garment T-shirt Printer
Product name: DTG6090
Printing Material: above 80% cotton (Recommend)
Ink: C.M.Y.K.W.W.W.W
Printing size: 60*90cm
Printing Resolution: 1440*720 dpi; 720*720 dpi
Ink type: Textile Ink
Print head: Single
Application: Textile Printing
Print speed: About 180seconds for 720*720dpi, 400mm*600mm size
Type:Digital Printer