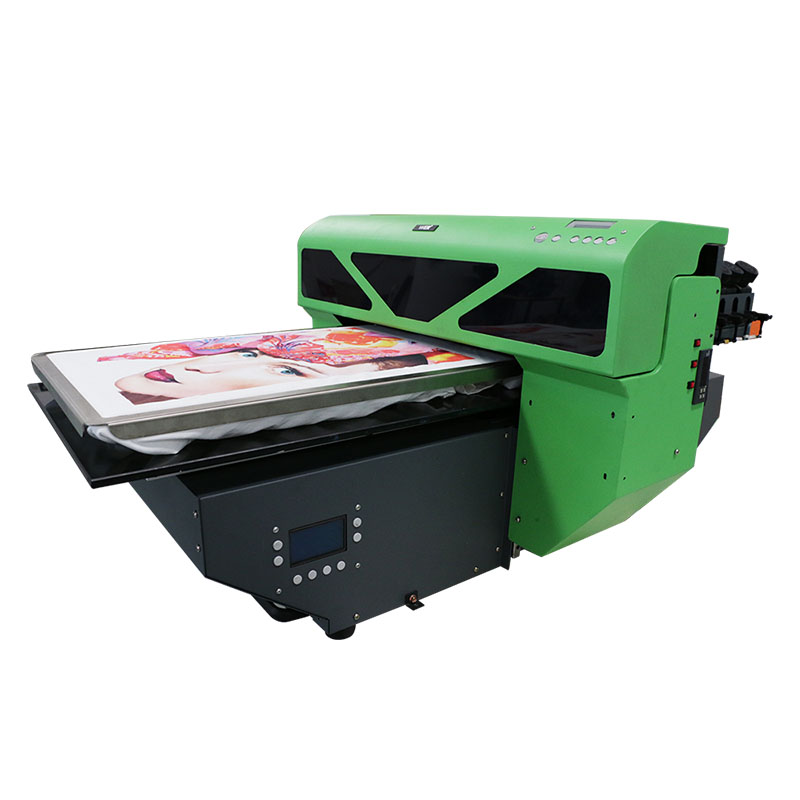 Specifications
---
1)DX5 Head,Fast Print Speed
2)New White Ink solution,no need pretreatment
3)Good Quality and Best Offer
Features
---
One of the biggest advantages of discharge printing is the soft hand feel it leaves which means when you touch the fabric, you get an amazingly soft hand or feel. If you print on dark garments by white ink it leaves usual white layer of ink and creates a "thick" feel on the design.
You can print beautiful full-colored prints without the use of pre-treatment at all, saving time and costs.
Extremely Low printing cost: printing cost takes 10% of the white ink.
Main functions:
1. Print directly any image, photo, words on t-shirts
2. Print both on dark t-shirt and white color
3. Printing speed up to 50-60 pcs of t-shirts per hour.
4. Freely adjust the printing height according to t-shirts
5. CISS system, you can refill the ink easily; Continuously printing
6. Never happen nozzle clog
7. Print area: 420mm*600mm (16.38*23.4)
Advantages
1.Extremely Soft Print
5. Power supply: AC220/11010, 50HX~60HZ Power450W
6. Working environment: Temperature: 5~35; humidity: 20~80%
7. Gross Weight:80KG (176lbs)
8. Driver: MicrosoftWindows98/2000/Me/XP MacOS9.1 or higher
9. Printer size: 620*880*360mm (24.18*34.32*14.04)
10. Packing size: 1100*700*500mm(42.9*27.3*19.5)
Advantages of RIP software
1, Accurately control the ink volume when printer work, so that the printed image exactly as
same as the designs prepared
2, Freely adjust the brightness, contrast, ect by RIP accroding to your request
Key Specification
---
1. 9-clor ink jet, Ink feed type: 640ml totally
2. Resolution: 1440dpi, 2880dpi
3. Max. Printing size: 420mm*600mm(16.38*23.4)
4. Printing speed: A4, full-format, full-color, 60 sec.
5. Power supply: AC220/11010, 50HX~60HZ Power450W
6. Working environment: Temperature: 5~35; Humidity: 20~80%
7. GW:100KG(220lbs)
8. Driver: MicrosoftWindows98/2000/Me/XP MacOS9.1 or higher
9. Printer size: 850mm*810mm*390mm(33.15*31.59*15.21)
10. Packing size: 1200*820*650mm(46.8*32*25.35)
We advise you use dupont ink(CMYK),which have good quality and well performance,if you think the price is high,you can order from other supplier,but regarding discharging ink,only we have it,price is cheaper than White textile ink on the market.
Application
---
Our Flatbed Printer can print on any materials like Textile,Plastic,Leather,Glass,Metal,Acrylic,etc.,also our uv printer can print any materials except textile without coating,more details,please contact with us.
Our Services
---
1) All printer machines comes with 12 months warranty,not including printer head,ink pump and human factors,like broken caused by wrong operations.
2) For ink puml and printer head,we ensure it's well for start,because we use special ink,so we can't promise the lifespan and give it warranty.
3) White customer received the printers,please don't install ink and test it,if self checking passed,we can install ink,if any problem,customer should contact with us
4) Any used or broken printer will not allow for full refund,please be understanding.also for after sales service,we provide free parts,but we don't bear shipping cost,for the first month,if any problem,our company will bear all cost.
5)Once customer buy product from us,they will have full service,and we can arrange all things for you,you just need to wait at hone or office,the product will be delivered to your address.
Quick Details
---
Condition: New
Brand Name: WER
Dimensions(L*W*H):Printer size: 850mm*810mm*390mm
Gross Power:50HX~60HZ Power450W
Plate Type: Flatbed Printer
After-sales Service Provided: Engineers available to service machinery overseas
Weight: 150kg
Automatic Grade:Automatic
Color & Page: MULTICOLOR
Certification: CCC,ISO
Usage: Label Printer
Voltage: AC220/110±10
Type: Digital Printer, Digital Printer
Place of Origin: shanghai China (Mainland)