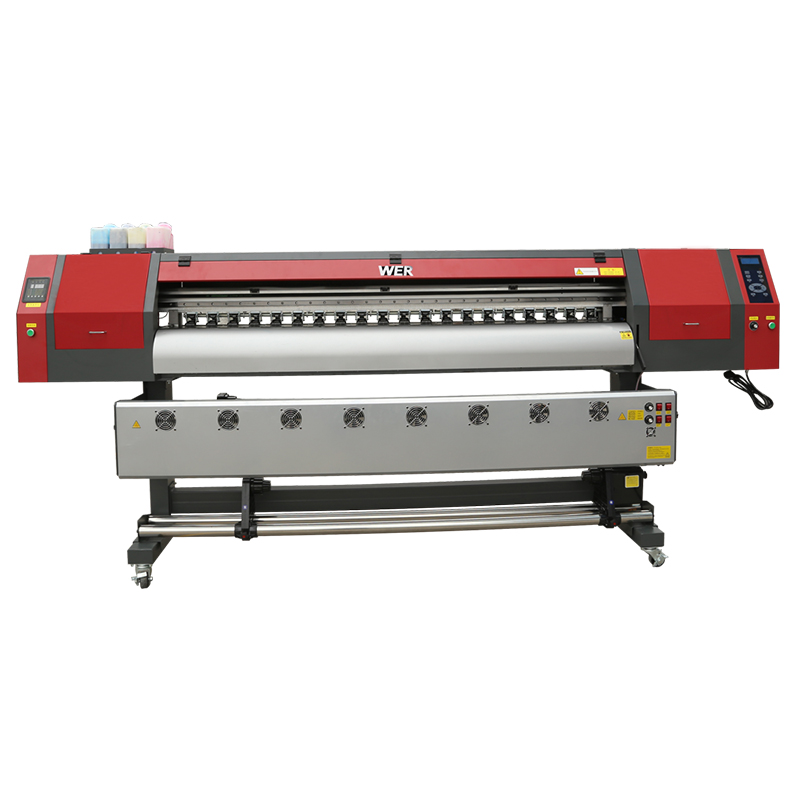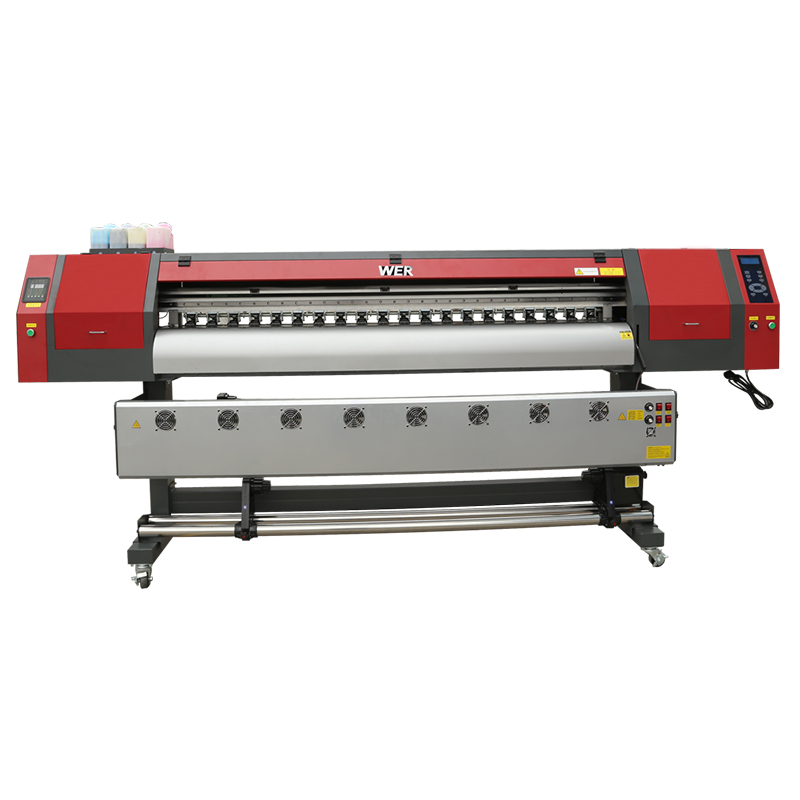 Machine Description:
---
High speed multifunctional printing machine for garments solution
Adopts EPSON DX5 Print Heads for Textile Direct Printing, Compatible with Pigment, Reactive, Disperse,Acid Ink.
Application Fields:
1\ Best choice for all kinds of fabrics direct printing.
2\ Environmental pigment ink-jet printing, short and simple process, after printing, just need heating dry.
3\ Reactive ink-jet printing process with High brightness, perfect hand feeling without color fading. Suitable for high-quality textile products.
4\ supported various products: Cut pieces, T-shirt, hat, bag, bolster, shoes, tablecloth,etc.
Printer Features:
---
1\ With belt convey method, it can print on both pieces and fabric materials.
2\ With feeding system, it's very suitable for elastic fabric like knitted material or weave material.
3\ With belt cleaning system, it can use reactive ink for reactive printing. Not just for pigment printing.
4\ Ink Color Control(ICC) systems are made by our Senior engineer, aims at our own ink. Tried and upgraded over hundred times to guarantee the best color performance output.
Machine Parameters:
---
Print Head
EPSON DX5
Head Quantity
2 or 4
Nozzle Tech
Micro Piezo
Nozzle Quantity
1440
Print Width
1600mm
Print Height
1~15cm
Ink Colors
CMYK
Ink Type
Pigment ink
Computer system
Win7↑ 64bit
USB Interface
USB3.0or2.0
Max Resolution
1080dpi
Speed 4pass
30m²/h
200pieces/h
Weight
1500KG
Power
220or380V, 50/60HZ
Packaging
Wooden Box
Dimension
3200*2700*1200mm
Print Media
Cotton, Cotton blends,Linen,Leather,etc.
Ink Supply Method
Automatic Continuous Loop Supply System
Head Moisture Method
Automatic Head Clean and Moisturize
Height Adjust Method
Automatic Adjustment
Rip Soft Ware
                     Wasatch, Photo print, Maintop
Environment
Tempreture:20ºC~30ºC,   Humidity:55%~65%
Investment reference:
1\This machine is a entry-level printer, the performance is very mature and stable, very easy to learn and operate. We will offer free technical training if needed.
2\The cost is very favorable: small investment, fast cost-recovery, large profit gains. Need very little space, suitable for small or medium size factories, and low labor cost for only one or two workers is enough.
WER is a professional manufacturer of digital printing machines. Including pigment ink-jet printer, sublimation printer, UV printer.
1.We have a Powerful Research & Developing Team and an after-service team. Our company focused on printing industry for 19 years.
2.The main components such as the print head, belt, servo motor are imported from Japan and Germany. We purchase all components from regular channel,most of our suppliers are with high reputation.
3.We have 5 senior engineers and dozens of technicians, they design and produce the whole printer from A to Z, if have any quality problem, it's easy to track and solve it.
4.We have quality inspectors who check the finished product with 100% strict test to guarantee without fault before package.
5.Perfect after-service system. We have one year warranty period for every new machine.
6.Fast Delivery Time. We have a powerful product line to guarantee the delivery time will be in 15 days once we receive your payment.
7.The machine will be Packaged by International standard wooden case.
F&Q:
---
1/ I'm doing traditional screen printing, and have no experience in digital ink-jet printing, what kind of machine do you recommend?
-- One set of entry level pigment ink-jet printer match a entry level sublimation printer. One for cotton fabric one for polyester.
2/ Do you provide the whole printing solution?
--Yes,except the machine, we also provide whole printing solution, including Ink, Pre-treatment liquid, rubber, ICC system, associated equipment, components and parts.
3/ How is the warranty?
--The whole machine with one year warranty(print head not included) and lifetime after-sale service.
4/How is the delivery time?
-- Normally speaking, one week after the earnest money paid.
Basic Info
---
Printing Speed: 200pics/Hour
System Supported: Windowsxp64
Print Head: Epson Dx5
Resolution: 1080dpi
Speed: 200pices/H
Trademark: WER
Transport Package: Standard Wooden Case
Specification: 4000*2800*1200mm
Origin: China
HS Code: 8443322101