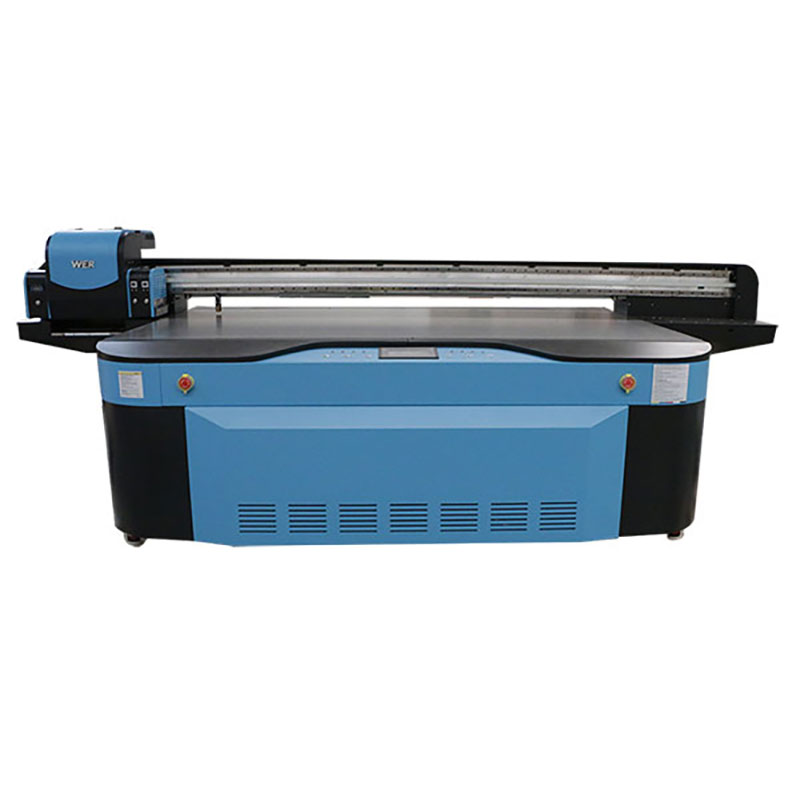 Digital LED UV Printer Advantages
---
(1)Use EPSON DX5 printhead, Hyperfine printing and high efficiency with 1440dpi;
(2)LED UV lamp without preheat boot on the run, with long use life, save time and energy;
(3)UV ink, environmental and no-odor release, instant curing, and not easily fade;
(4Can use white ink, with self circulation and self shaking function, avoid the white ink to be precipitate and stocking the printhead;
(5)The media can be 120mm, if higher can be customized;
(6)Can print 25sqm/h, and the cost of ink would be around 1.5 dollars;
Digital LED UV Printer More Applications
---
Printed materials could be: glass, ceramic, ceiling, aluminum sheet, wood board, door sheet, metal panel, billboard, acrylic panel, Plexiglass, paper board, foam board, PVC expansion board, corrugated cardboard; flexible materials such as PVC, canvas, cloth,carpet, sticky note, reflective film, leather etc. all kinds sheet materials and coiled materials.
Digital LED UV Printer Application areas
---
Decoration industry, glass industry, sign industry, exhibition industry, rigid paperboard packing industry, leather, art-ware industry, furniture industry etc.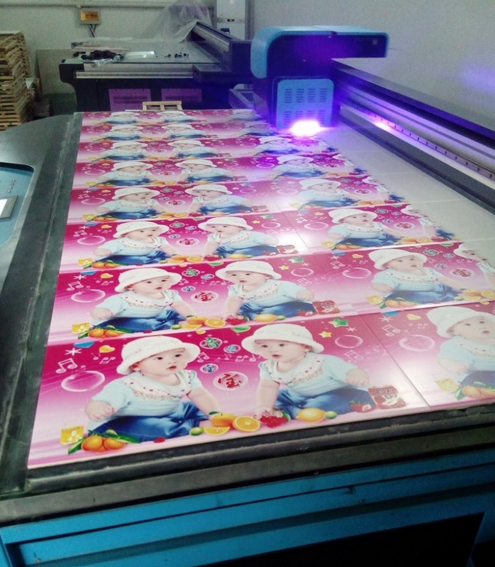 Main Parameters
---
Nozzle type

Ricoh G5 1 to 8 GH2220 factory printer head 1 to 16 pieces;Japan micro plezoelectric nozzle 1 to 2
Maximum print size
2000mm*3000mm
Print Speed
Rioch:sketch model 48 m2/hour  production25m2/hour High quality pattern 16m2/hour
Epson:sketch model 14m2/hour  production8m2/hour High quality pattern 6m2/hour
Print Material
Type:Acrylic,aluminum panels,boards,tiles,foam plates,metal plates,glass,car-board and other flatbed object
Thickness:0mm-120mm Average Weight:25kg maximum size 2500mmX1300mm
Ink type
Blue,magenta,yellow,black,shallow blue,pale red,white and light oil
The UV lamp
Rioch:LED-UV 2 only 1500w  life 2000-3000 hours Water colling
Epson: LED-UV 2 only 420w  life 2000-3000 hours Water colling
Date transmission interface
USB2.0
Rip software
Photo-print,Monterio,Ultraprint,Microsoft Windows2000/XP/WIN7
Power supply voltage,and power
AC220v.hosts the largest 1350w,LED the UV lamps200-1500w,1500w vacuum suction platform
Image format
Tiff,JEPG,Postscript3,EPS,PDF Etc.
Color control
In line with international standard for the ICC,with curve and density adjustment function
Printer Resolution
Rioch:600*600DPI,600*900DPI,600*1200DPI,
Epson:720*360DPI,720*720DPI,360*1080DPI,720*1080DPI,720*1440DPI,1440*1440DPI
The operating environment
Temperature:20℃-28℃ Humidity:60%-80%
Available the ink
Leds-UV ink,textile ink,solvent ink
Machine size
Length 3720mm X width35300mm X high1500mm  1000kg
Package size
Base:Length 3860mm X width2150mm X high1250mm

1500

kg

Head:Length 3670mm X width2870mm X high1150mm
You Will Enjoy:
---
1. Best quality machines with CE Certificate
2. Best price,
3. One year warranty and life long maintenance,
4. Best consumables: inks, trays
How to use the machine:
---
Steps:
1. Take one photo from your computer or camera
2. Design photo by your computer with RIP software (software free with machine)
3. Use the equipment printing
4. Printing product
warranty and after-sale service:
---
* The printer has one year international warranty.
* Our factory provide training, problem-shooting and technical support.
* CE Certificate
FAQ
---
1. What materials can uv printer print on ?
printers are multi-functional printers: it can print on any materials such as phone case, leather, wood, plastic, acrylic, pen, golf ball, metal, ceramic, glass, textile and fabrics etc...
2.Can LED UV printer print embossing effect?
Yes, it can print embossing effect, for further information or samples pics, please contact our representative salesman.
3.Does it must be sprayed a pre-coating?
Haiwn uv printer can print white inks directly and no need for pre-coating.
4.How can we start to use the printer?
We will send the manual and teaching video with the package of the printer.
Before use the machine,please read the manual and watch the teaching video and operate strictly as the instructions.
We will also offer excellent service by providing free technical support online.
5.What about the warranty?
Our factory provide one year warranty: any parts (except print head,ink pump and ink cartridges) questions on normal use, will provide new ones within one year(not include shipping cost). Beyond one year, only charge at cost.
6. what's the printing cost?
Usually,1.25ml ink can support to print a A3 full size image.
Printing cost is very low.
7.how can i adjust the print height?
Haiwn printer installs infrared sensor so the printer can detect the height of printing objects automatically.
8.where can i buy the spare parts and inks?
Our factory also provide spare parts and inks,you can buy from our factory directly or other suppliers in your local market.
9.what about maintenance of the printer?
About maintenance,we suggest to power on the printer once a day.
If you don't use the printer more than 3 days, please clean the print head with cleaning liquid and put in the protective cartridges on the printer (protective cartridges are specially used for protect print head)
Quick Details
---
Type: Inkjet Printer
Condition: New
Plate Type: Flatbed Printer
Place of Origin: Shanghai, China (Mainland)
Brand Name:WER
Usage: Bill Printer, Card Printer, Cloths Printer, Label Printer, Paper Printer, Tube Printer, glass printer, rigid paperboard printer, furniture printer
Automatic Grade: Automatic
Color & Page: Multicolor
Voltage: 220V
Gross Power: 3000W
Dimensions(L*W*H):386m*2.125m*1.25m
Weight: 1500KG
Certification: CE Certification
After-sales Service Provided: Engineers available to service machinery overseas
Ink type: UV Ink
Name: Uv Printing Machine A2 Size
Print head: Ricoh Gen5 Print Head
Maximum print size: 2500*3000mm
Key words: Digital LED UV Printer
Print speed: 48m/Hour
Application: Indoor Outdoor Advertisement
Media Type: Window Film
Print Material: Acrylic,tiles,foam plates