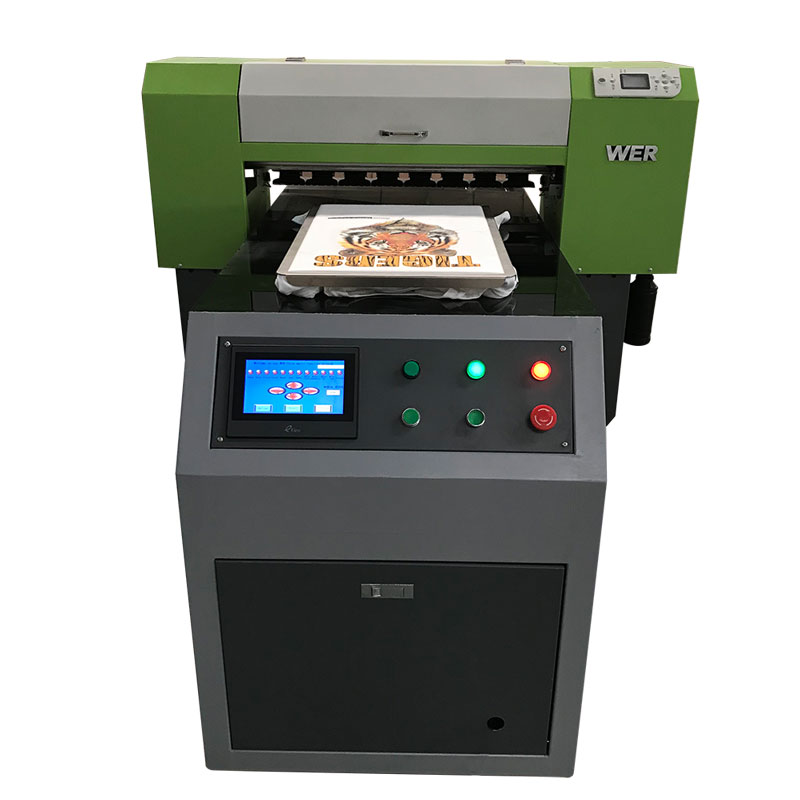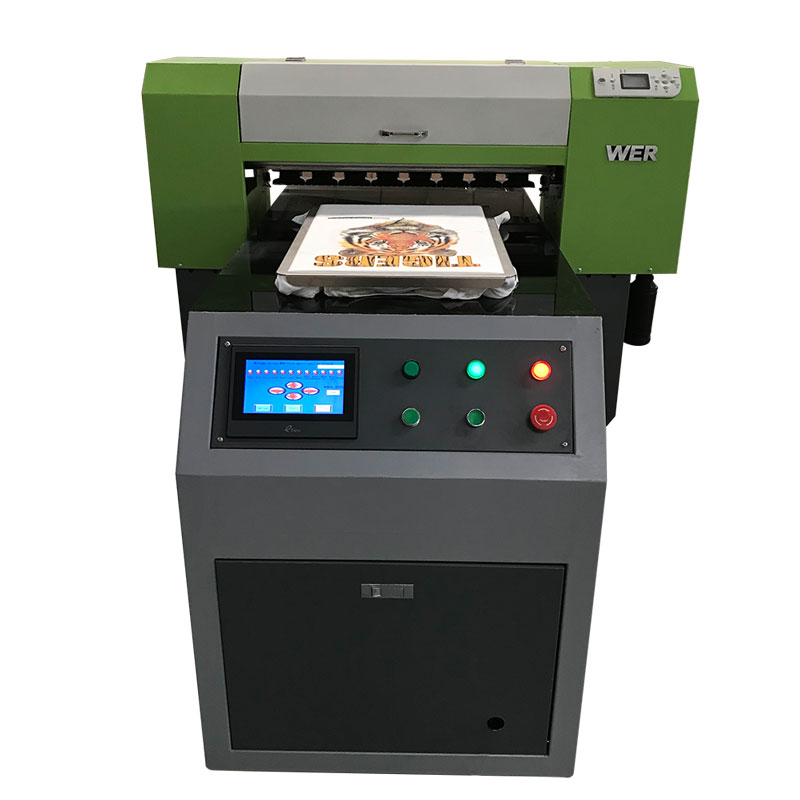 Overview
---
High resolution, low cost, easy operation
With CISS System(continous ink supply system),can avoid the printer lacking ink during the printing process and save 50% ink.
Directly print on the cards,phone covers,wood etc., more convenient than the heat transfer printer, and faster than the silk printer.
Do not need the transfer paper, all process can be finished in one step.
Instant drying system.With the help of the UV system,the images printed on nearly all products and can be dried instantly.
Adopt the DX5 print head
With the scan of the infrared ray,all process is fully automatic,that is why it also be called as the"LAZY PRINTER"
Can print the white ink and 3d embossed image.(can print on any dark background products)
specifications
---
Specifications Of WER EP6090 A1 UV Printer
Printer Model
WER-EP6090UV
Printing method
Drop on Demand ( non-contact micro piezoelectric ink-jet printing technology; micropiezoelectric printing technology; VSDT; intellingent nozzle cloggingsensor system ). 180nozzle/color*8; VSDT.
Head type
One Epson DX5 head
Printing thickness
150mm
Max Printing size
24"*36" (60 * 90cm)
Ink type
UV LED curing ink
Color number
8 ink cartridges(CMYK+WWWW or Dual CMYK)
Printing resolution
2880*1440dpi
Printing interface
USB 2.0 high speed interface & 100 Base-T Ethernet interface
Printing Direction
Smart Bi-directional Printing Mode
Ink used
180nozzle/color*8; VSDT
Applicable industry
Rigid PVC board, glass, plastic, organic board, leather, rubber, special paper, metal, wood, porcelain, PVC, ABS, acrylic, aluminum, iron sheet, ceramic tile, marble, granite, paperboard, etc.
Printing Speed
about 3.4min(360*360dpi; draft model)
about 6.9min (720*360dpi; quality model)
about 49min (720*720dpi; photo quality model)
90s for A4 profile photo chrome model
Height detection of printing material
Infrared sensor
Power consumption
136 W/ Hour
Ink consumption
10 ML/SQM
Lamp type
LED Lamp (saving energy and environmental friendly)
Auto adjustment function
Nozzle automatic detection; print head automatic
Volume
305cmx120cmx203cm
Height adjustment
Auto Sensor
Normal working environment
Temperature 10-35Celsius Humidity 20-80RH
Power/ Voltage
78W / 220V/110V
Operation system
Windows 2000 / XP / WIN7/ Vista, etc.
Machine confiauration
USB line; driving software; power line; instruction book; washing and ink-joiner tool
Special remarks
Customized service is available.
Packing & Delivery:
Gross weight
350 KGs
Packing
plywood
Packing Size
1.5m * 1.4m * 1.5m
MOQ
1 set
Delivery
7 working days after receiving the deposit
features
---
Highest stability & precision
With the experience that many people desire to take large format uv flatbed printer for wide application, while most of them complained about the high cost, we've been thinking about it and hope to find a way out a long time ago.
Now WER-EP6090UV can realize your dream to own a big size uv printer at a quite affordable cost.
Original Epson 7880 printing system, which is equipped with original EPSON Piezo inkjet F186000 Printhead with 180 nozzles per channel.
Easily operated with LCD operation panel.
Ball screw drive system, air sucking platform & powerful servo motor, all these features allow it print in high precision.
Rigid industrial design ensures quality output with physical resolution 5760*2880dpi.
Providing of LED UV rigid ink, and you can print anything on different materials, superior quality.
Adopt the advanced variable ink drop technology, min size 3.5pl and max size 27pl, speed 30% faster.
Quite affordable cost for a big size uv flatbed printer
Large format uv flatbed printer is widely available in the market, but the average cost is more than 15K USD, which is really a big burden to enter into a new business, especially for some small enterprises
Besides its excellent and stable print performance, WER-EP6090UV has a very competitive price and widely acceptable. Compared with mini size uv printer(e.g. A3), you only need to pay 2 - 3 K USD to own it which has a max print size up to 60 × 90 cm.
Well-known reputation
Stable print performance has helps it get very good feedback from customers all over the world.
Rich, Vibrant, Durable Color effect
New, specially formulated, quick-drying UV CURING INK produces amazingly brilliant colors. The inks also provide excellent long-term outdoor durability, scratch and chemical resistance, broad media support and a wide spectrum of color. Not enough? Configurable to dual-CMYK or CMYKWWWW for finer details, smoother gradations and more neutral grays (made possible with Black ink).
applications
---
After 10 years' of experience and exploring in printing industry,WER UV series mainly used for the following media as well:Rigid PVC board, plastic, organic board, leather, rubber, special paper, wood, porcelain, PVC, ABS, acrylic, aluminum, ceramic tile, marble, granite, paperboard etc
Crafts, Prize
As the formation of consumers market, high-end and precise crafts and prize items are required, product design and appearance is facing an unprecedented challenges. With this demand, our machine make continuous improvement, it can be done with high precision, high-quality and high-definition printing.
accessories
---
No.
Item
Unit
Discription
Warranty
Function
Price
1
Printhead
Pcs
EPSON F186000 DX5 Second encrypted
No
Physical resolution control
2
Mainboard
Pcs
Yes
Printer data control
3
PCB board
Pcs
Yes
Driver system
4
Carriage board
Pcs
Yes
Driver system
5
Servo motor
Pcs
No
Drive control
6
Servo motor driver
Pcs
No
Driver software for servo motor
7
Power supply
Pcs
No
Power control
8
UV Lamp water cooling box
Pcs
No
Cooling system
9
Printhead data cable
Pcs
No
Data transfer
10
LED UV Lamp
Pcs
No
UV curing system
11
Ink damper
Pcs
No
Ink filter
12
Ink tube
Pcs
Yes
Ink transfer
13
Ball screw
Pcs
Yes
Driver system
14
Wiper
Pcs
No
Scrape the waste ink
15
Motor belt
Pcs
No
Driver system
16
Carriage belt
Pcs
No
Driver system
17
Cleaning unit
Pcs
No
Cleaning system
18
LCD touch screen
Pcs
No
Touch screen control
19
Ink cartridge
Pcs
No
Ink container
20
Raster reader
Pcs
No
Data transfer
21
Raster sensor
Pcs
No
Data transfer
Price description
For the above items, there are some consumable parts (like printheads) and some Non vulnerable parts, so WER company just offered some of the prices as reference. If you need the exact price, please feel free to contact our sales staff.
| | | | |
| --- | --- | --- | --- |
| No. | Discription | Quantity | |
| 1 | USB data cable | 1 | Free |
| 2 | Ink tube | 2m | Free |
| 3 | Ink capping top | 1 | Free |
| 4 | UV ink damper | 4 | Free |
| 5 | Syringe | 5 | Free |
| 6 | Software & user manual | 1set | Free |
| 7 | Power cable | 2 | Free |
| 8 | Funnel | 5 | Free |
| 9 | Ink chip | 2 | Free |
| 10 | Ink chip refresh | 1 | Free |
Attention
---
1. When the equipment sent to the customers and ready to all install, the first thing is to prepare a voltage regulator, while civil voltage is stable now, but still there will be some floating up and down. Because of the voltage instability, which will have some difficulty in installation. The problem we met mostly may be the connection to computer, or after the online software can't normally opened, also is the computer power cord unexplained fever, which may affect the equipment! At this time we are going to use multimeter to measure the voltage to solve this matter!
2. When we switch on, machine reset successfully, then we open software. Since the connection when the machine is reset software absorbing ink pad will be a process of down and up, the device is reset, so as to lead to errors instructions, machine reset failed!
3. When using the equipment, printing products if happens to catch up with something not in, so it is better to turn off the software. Because the device under the connection state of software will continue to control flash spray nozzle, after a long time will lead to absorb ink pad ink spill over into the ink pad on the lines below, after a long time will affect the equipment!
4. If our production is completed, shut off the device, the software must be closed first.
5. Before you insert the data cables, turn off the printer power first.
6. Before printing works, you should make sure printheads don't hit print media, adjusting the nozzle height then send the print task.
7. Often clean the printhead and the printhead stays wet, prevent drying printhead from affecting the service life of the nozzle.
8.the machine doesn't work, don't inject ink into the cartridge.
9.if you haven't operated the machine for a long time, clean up to remove the nozzle with a cleaning fluid stays wet.