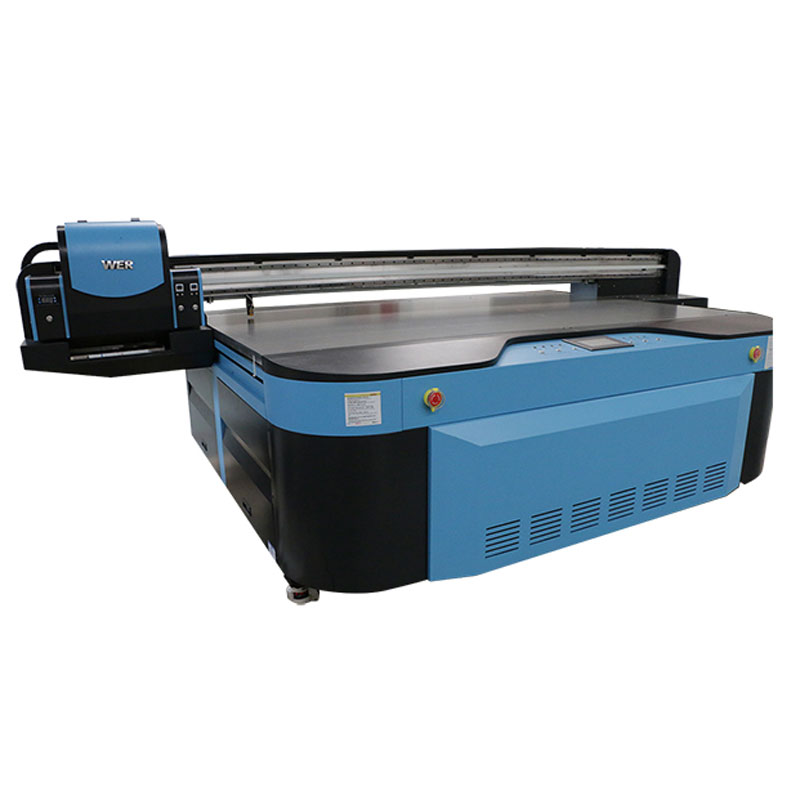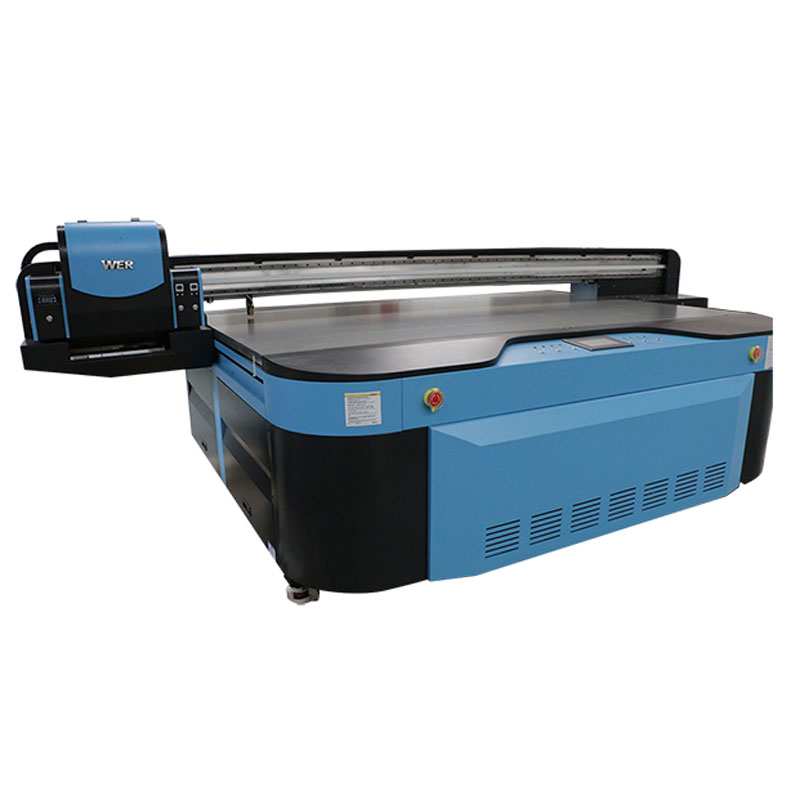 Specific parameters of WER-G2513 UV flatbed printer
---
Print size

Wide 1600mm* length 1200mm

nozzle type

EPSON micro voltage nozzle (4 nozzles)/ ricoh nozzle

Print color

C,M,Y,K,LC,LM,W,Varnish

print mode

White, color, light oil with the same, more white color out of the same, automatic jump white technology, once again three layers of thick relief

Print height

80mm/ or customizable height

Curing system

Imported LED UV lamp curing system (water cycle cooling)

Print accuracy

360DPI,720DPI,1080DPI,1440DPI,2880DPI

Lifting function

Intelligent lifting of double guide rail car

receive files

TIFF (RGB&CMYK), BMP, EPS, JPEG, PDF and other common picture formats

Ink system

The imported UV ink, CISS intelligent mixing, negative pressure ink supply system

Printing speed

Sketch mode

Up to 19 square meters (4 head speed) /h

Production model

Up to 12 square meters (4 head speed) /h

Fine model

Up to 6 square meters (4 head speed) /h

Nozzle protection

Anti collision floor protection system for sprinkler

Power requirements

AC220/110±10,50HZ~60HZ,P 1100W

Print interface

High speed USB3.0 transport interface

Driver software

MicrosoftWindows98/Me /2000 /XP/Win7

Equipment size

Length * width * height =198cm*301cm*120cm
UV flat-panel printers features
---
1, applies to any material, is widely compatible with surface.
2, UV ink, meet the multi-purpose industrial production.
3, the machine adopts the ricoh or Epson head, printing of high precision, strong stability.
4, do not need to plate making, printing and quick and low cost, support for multiple file formats.
5, one step, that is, that it, meet the needs of fast out of the sample, the finished product.
6,Mass can form a complete set of 6, sheet printing, printing templates, save time and effort.
7, full-color images, once completed, gradual color can go to the photo quality effect, positioning precision, low rejection rate.
8, loop time fast.General mastery in a one or two hours, making high-quality goods, no professional skills.
9, the computer operation, low dependence on staff, upgrade space is large.
10 and leds - cold light curing system, UV environmental protection energy conservation, save electricity, curing effect is best.
11, large platform, tailored for industrial users.
12, high precision, beyond traditional UV machine precision, up to 2880 dpi.
13, intelligent photoelectric positioning device, X and Y to repeated ten thousand times print does not shift.
14, ink does not contain any organic volatile chemicals safety, environmental protection.
15, the foundation, print - white, white white.
16, concave and convex feel effect can print products.
17, negative pressure ink system and secondary ink filtration system, to ensure that the ink is stable and put an end to the output of the nozzle clogging.
18, advanced the ICC color management, effective control for differences in partial color ink or medium.
19, don't limit orders, how many machine production process, is printed with a cost of one hundred, monochrome and complex color printed at a time.
Quick Details
---
Type: Inkjet Printer
Condition: New
Plate Type: Flatbed Printer
Place of Origin: shanghai, China (Mainland)
Brand Name: WER
Usage: Bill Printer, Card Printer, Cloths Printer, Label Printer, Paper Printer
Automatic Grade: Automatic
Color & Page:Multicolor
Voltage: 220V
Gross Power: 1500W
Dimensions(L*W*H): 198cm*301cm*120cm
Certification: CE Certification
After-sales Service Provided: Engineers available to service machinery overseas
Application: Indoor Outdoor Advertisement