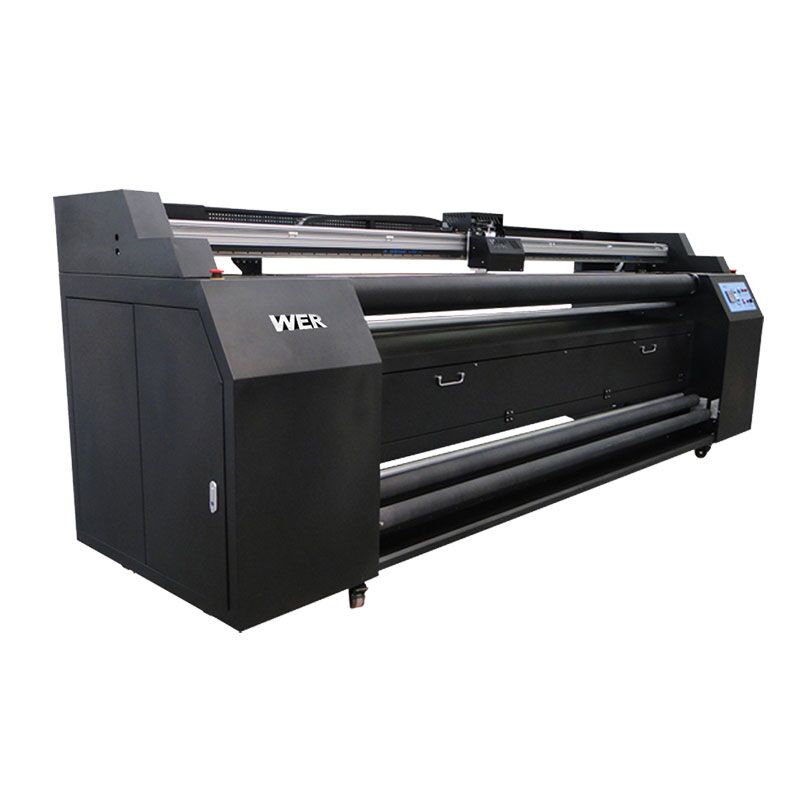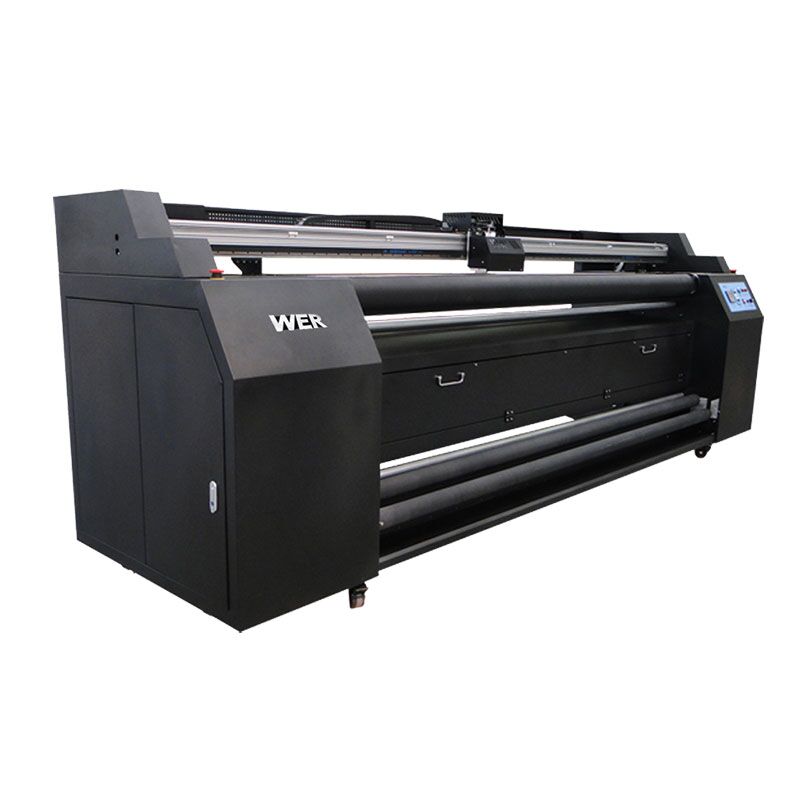 overview
---
Innovation to make you more profitable
Shanghai WER large format roll to roll direct to textile printers have played an instrumental role in leading the analog to digital revolution. From the instruction of first small size Desktop and Flatbed T-shirt printer to the latest large format roll to roll textile printers, WER printers continue to expand the possibilities of digital print. Today, our integrated system will help your business reach new levels of competitiveness, profitability and growth.
Step up to WER large format roll to roll textile printer printing and capture more of your customers' high-margin print jobs with true 1440dpi image quality, direct printing to cotton and mixed textiles, and production speeds up to 30 sq/hr.
1.Original EPSON printhead,which can meet the demand? of various printing works
2.Large capacity of ink cartridges,For a more efficiency work,saving 35% time.
3.Direct sublimation ink printing system,This new technology allows customers to Print on medias directly with our professional direct printing sublimation ink
specifications
---
Specifications Of Epson E1802T Roll To Roll UV Printer
Printer Model
WER-EP1802T
Print Technology
Drop-On-Demand Piezo electric Technology
Number of print-heads
2 pcs Epson DX5
Nozzles
4* 4 color ( C M Y K )
Ink type
Sublimation ink print on the media directly
Ink supplying system
Auto sense ink supplying system
Intelligent monitoring system
Auto detecting system while lacking ink
Heating & drying
Heating system
Equipped
Heating temperature
available: Normal temperature----25°C
suggest temperature: 30°C-------40°C
Drying system
Equipped
Media accetpable
Weave or knit cotton, dacron, flax, silk, polyester, cashmere, towel etc.
Print width max
1800MM
Speed
Mass production mode
30.0m2/h
Quality mode
22.0m2/h
Ultra quality mode
15.0m2/h
Print-head cleaning system
Automatic cleaning & auto capping system
Interface
USB2.0
RIP Software
Maintop or Photoprint
Power supply
Ac220V 50/60Hz
Working environment
Temperature: 20℃~32℃; Humidity: 40%~60%
N.W.
300kg
G.W.
350kg
Machine dimension
2860mm*800mm*1250mm
Packing dimension
3250mm*600mm*770mm/ 3000mm*900mm*1550mm
features
---
Multi-functional printing
1. Heavy duty roller driving structure, film and durable body, operating with high resolution, and long service life.
2. Adopts double epson print head, print maximum width up to 1800mm, print speed 35 square meters per hour
3. 4colors (C,M,Y,K) printing with 1440dpi reach perfect printing.
4. The output image is non-fading, water proof and scratch proof.
5. Acceptable Material: Leather, Wallpaper, Self-adhesive paper, PVC, Mesh fabric, flex banner, Vinyl, coated paper, non-woven paper, pp paper, high glossy photo paper, backlit film, etc.
Direct sublimation printing system
With our professional direct sublimation printing ink, customers do not need to print product with old-fashioned heat transfer sublimation technology. Which takes too much time and printing cost in the past, all you need is to enjoy the faster speed of our direct printing technology.
Automatic heating system built-inside
One key heating system can speed up your printing process, and save labor cost at the same time.
Advanced Media Take-Up System
WER-E1802T includes an automated media take-up system to facilitate precision unattended printing when using roll media. This pre-assembled unit includes an advanced tension-controlled take-up system for optimum media feed and tracking.
applications
---
Traditional screen printing processes for decorating, coating and finishing textiles waste materials and energy. High set-up costs and long make-ready times make short production runs uneconomically, while the complex design implementation process makes new product introduction times lengthy. Traditional techniques are also limited in the range of colours available on a single print.
Benefits of digital inkjet textile printing
Textile printing solutions are available for printing fashion, interior, outdoor and technical textiles
Low set-up and running costs enable you to print economically at all run lengths, greatly reducing inventory requirements
Fast introduction of new designs reduces time to market, keeping you ahead of the competition
Detailed prints with a wide range of vibrant colours increases product quality
Variable image printing and personalisation opens up new product possibilities
Materials can be deposited in precise quantities, greatly reducing ink, water and energy usage
Functionalities, including coatings and active materials, can be applied more efficiently than with conventional methods
The canvas
Canvas is a kind of relatively thick cotton or linen fabric, use plain weave, more commonly a few with twill weave, warp/weft yarn with more shares. Canvas usually called rough canvas and thin canvas two kinds. Thin canvas for labor protection clothing and supplies, after dyeing or printing, also can be used as a shoe, bags fabrics, handbags, backpacks, table cloth, table cloth and so on.
accessories
---
No.
Item
Unit
Discription
Warranty
Function
Price
1
Printhead
Pcs
Vulnerable parts
Physical resolution control
2
Ink damper
Pcs
Vulnerable parts
Ink filter
3
Ink tube
m
Ink transfer
4
Wiper
Pcs
Vulnerable parts
Scrape the waste ink
5
Ink cap top
Pcs
Vulnerable parts
Printhead moisturizing
6
Syringe
Pcs
Absorb ink when the ink tube is empty
7
Power cable
Pcs
Power supply
8
Printhead data cable
Pcs
Vulnerable parts
Printhead data transfer
9
Short motor belt
Pcs
Motor drive
10
Raster strip
Pcs
Vulnerable parts
Printing calibration calculation
11
Drag chain
Pcs
Printheadhead position transfer
12
USB cable
m
Computer connection with printer
13
Sensor reader
Pcs
Sensor control
14
Ink cartridge
Pcs
Store ink
15
Mainboard
Pcs
Printer data control
16
Head Board
Pcs
Input & output board
17
Y motor
Pcs
Y drive control
18
220 Power supply
Pcs
Power supply
19
X motor
Pcs
X drive control
Price description
For the above items, there are some consumable parts(like printheads)and some Non vulnerable parts, so WER company just offered some of the prices as reference. If you need the exact price, please feel free to contact our sales staff.
| | | | |
| --- | --- | --- | --- |
| No. | Discription | Unit | Quantity |
| 1 | Ink Tank | 500ml | 4 |
| 2 | Ink damper | Standard | 2 |
| 3 | Syringe | Standard | 4 |
| 4 | Copper Cap | small | 4 |
| 5 | Copper Cap | big | 4 |
| 6 | Quick Connector | 4mm | 10sets |
| 7 | Power cable | | 3 |
| 8 | Driver software | | 1 |
| 9 | Screws | 3X8/4X8 | 20 |
| 10 | Ink tube | 3.8 | 2m |
| 11 | Ink tube | 2.8 | 2m |
| 12 | Ink cap top | | 2 |
| 13 | Ink pump | | 2 |
| 14 | Printhead data cable | | 2 |
| 15 | Raster strip | | 1 |
| 16 | Swab rod | | 3 |
| 17 | Y shape three direct links | | 1 package |
Attention
1.Do not insert the printhead cable in a wrong position, in case of nozzle burn out.
2.In case of a sudden carriage crash, you should avoid nothing to stop the printhead carriage.
3.Be careful when you refill the inks, you should use a funnel to add in case that ink falls on the ground.
4.Printhead cleaning solution should be used when cleaning, in case of the printhead clogging.
5.Before operating the machine, you should read the instruction first, in order to avoid improper operation.