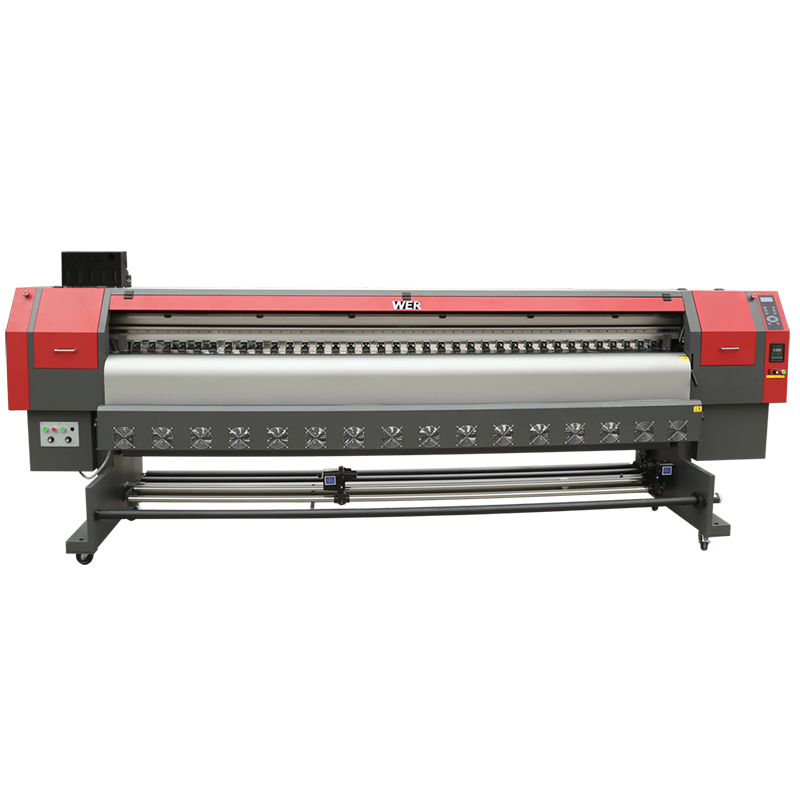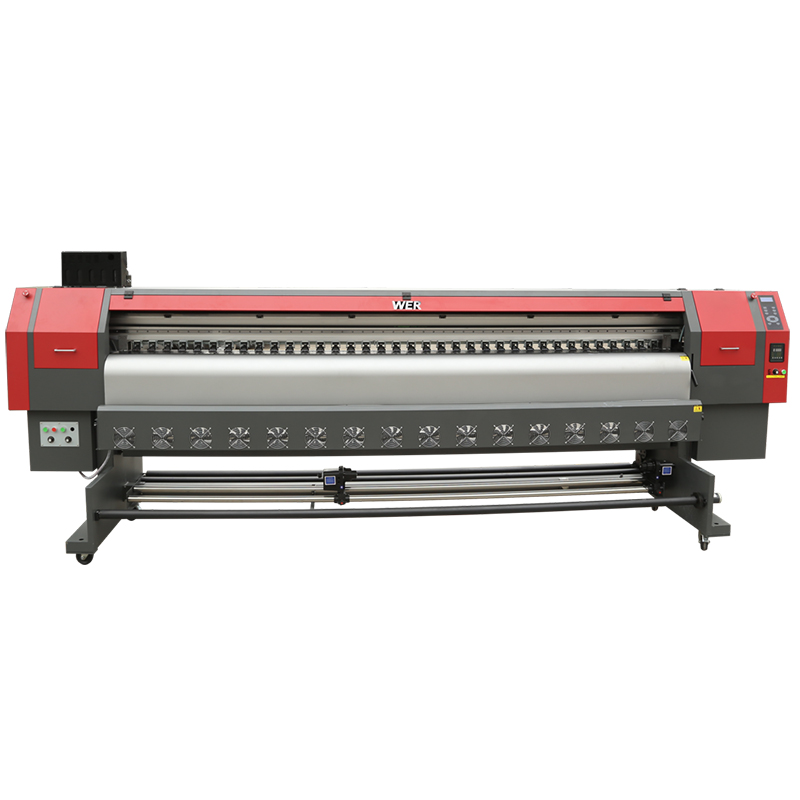 1, High resolution.
Using double epson DX5 print head, including 180 nozzles/ row * 8 lines * 2, in the nozzles is four times than befores. high output quality up to 1440dpi.
2. High Speed.
The staggered arrangement of the print heads significantly improve the productivity! our new 2000/2600 with 2 epson dx5 heads in staggered printing mode can make the speed can be 35m2 /H.
3. High printing quality.
The new variable droplet control technology achieve the eight grayscale to make the printing more delicate & accurate. Can output the perfect printing with VSD technology even though in high speedor low resolution cased.
4. Three smart heaters of front, middle and back.
The heaters can be controlle by separately to heat the media to be appropriate temperature to improve the absorption of ink. Front heater can reduce the drying time and speed up the efficiency of collecting paper.
5. The automatic damper take - up system.
Worry - free when print the long chart, the automatic media take - up device synchronizethe rolling collection to avoid the step or offset problems. And the width of media can be 1.9 meters.
6. Adustable print head height to adapt more different media.
The height of print head can be adjustable according to the thickness of media from 1.5mm to 8mm to ensurethe good spary quality.
7. Using the well-known HAVIN brand rails.
To ensure the movement of carrier be more stable, Long life and quieter.
8. Three intelligent eclosion print function.
Three intelligent eclosion print function can eliminate the broken picture to make the printing more perfect and delicate.
9. Automatic ink maintenance station is more convenient and stable.
The automatic self-designed absorbing devide with simple operation is more convenient for maintaining. And the automatic up/ down sucking ink fuction canreduce the waste of ink.
10. Using High power servo DC motor for X,Y axis to ensure accurate transmission.
11. Using high speed USB-HiUSB interface.
12. High Stability.
Here are the advantages to choose us:
---
1, we are the manufacturer, you have our word of good quality.
2, we have rich experience in making to suit for your printer, we upgrade our production line all the time.
3, As we are the manufacturer, we can control the cost and give you the most competitive price for you.
Spare parts we offer: Ink supply parts including pumps, filters, sub tanks, tube, valves and etc.
PCB including print head board, maid board, drive board and etc.
Cables including long data cable, print head cable, optical fiber cable and etc.
Other spare parts including print heads, rasters, raster sensors, motors, pulleys and etc.
Quick Details
---
Type: Inkjet Printer
Condition: New
Plate Type: eco solvent printer
Place of Origin:Shanghai, China (Mainland)
Brand Name: WER
Usage: eco solvent printer
Automatic Grade: Automatic
Color & Page: Multicolor
Voltage: AC 110// AC 220V
Dimensions(L*W*H): 5320MM*1040MM*1260MM
Weight: 750kg
After-sales Service Provided: No overseas service provided
Print head: Piezo teachnology Epson DX5 print head
Printing platform: 3.2M
Interface: USB
RIP Software: MaintopV5.3, photoprint
Ink Capacity: 220ml//440ml