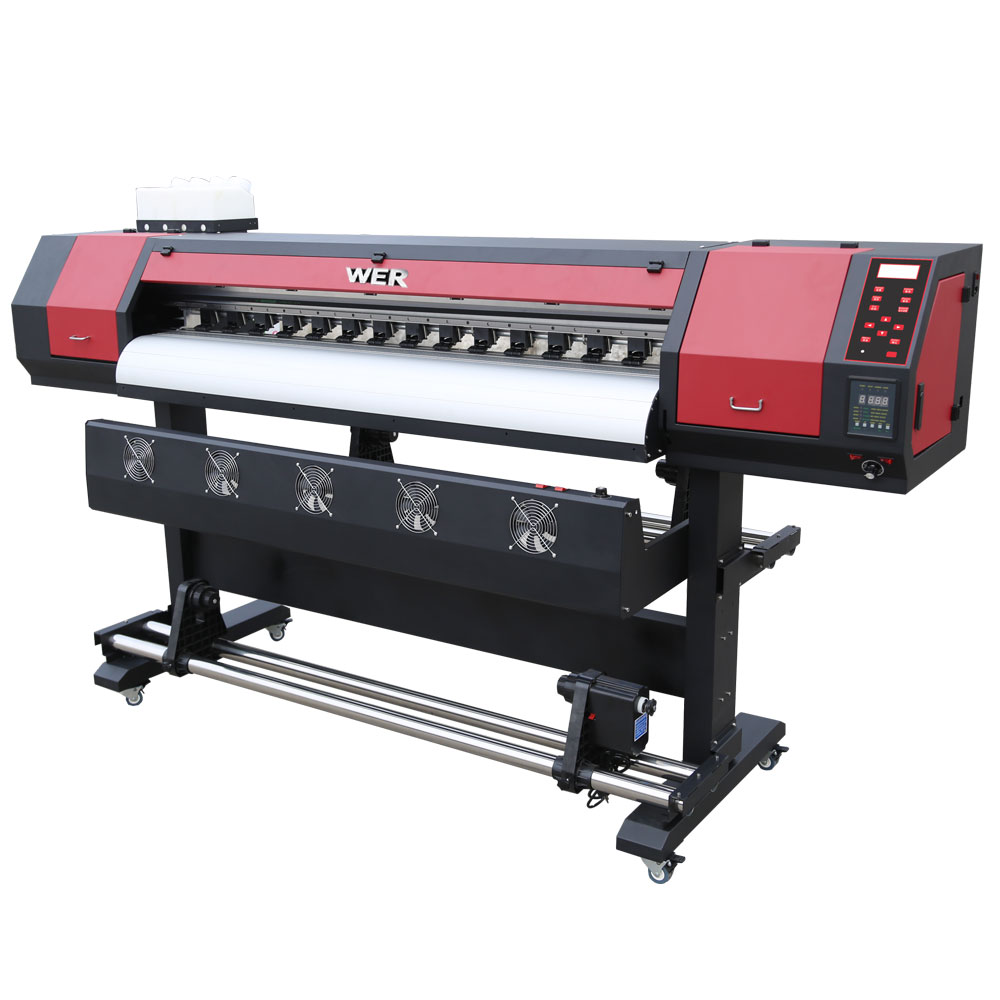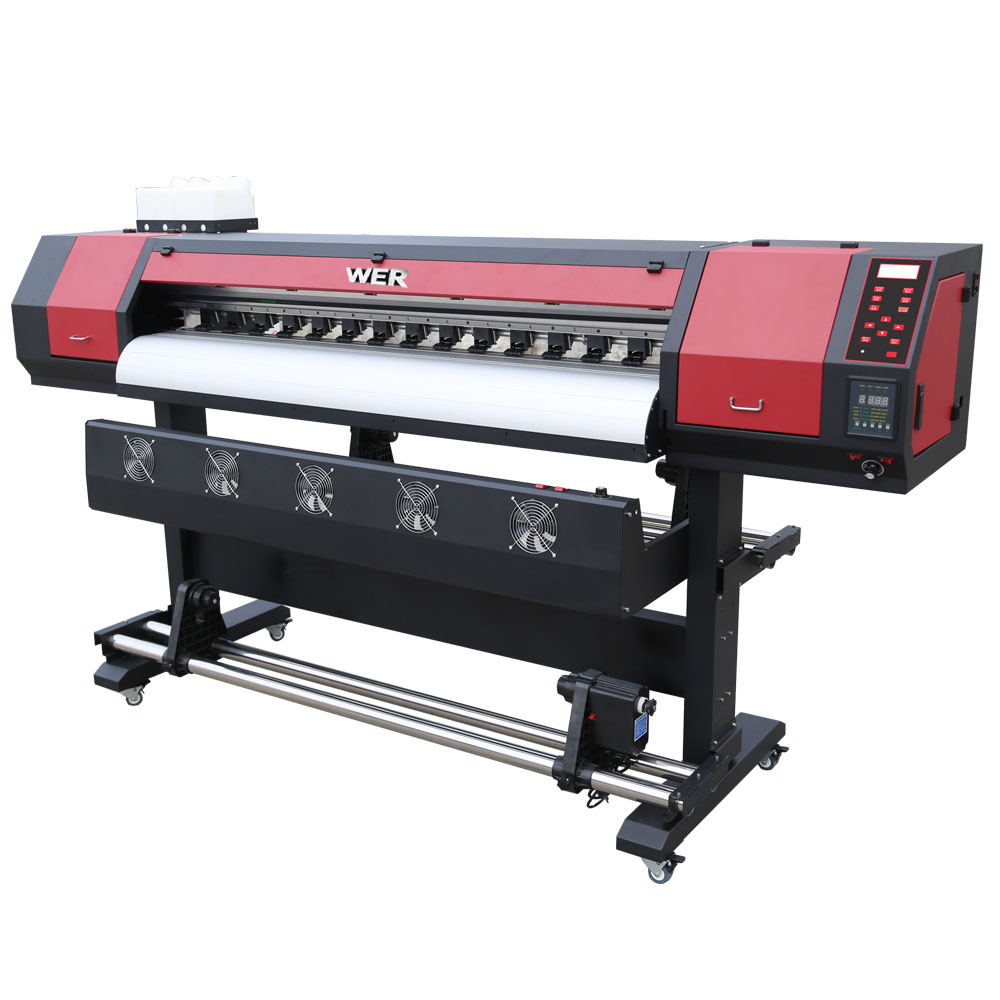 Precision printing,faster speed,and reasonable price
---
In today's economy, everyone is looking for value. And real value begins with real quality and performance. That's the thinking that drove the design of the WER-ES1602, 1.6 meters eco solvent printer.
Multi-function and perfect industrial design
---
Available for printing 5 feet width materials, the WER-ES1602 is the perfect high-performance production tool for creating colorful decals, labels, banners, posters, vehicle and floor graphics, apparel decoration and just about any sign imaginable.
The 1.6m eco solvent printer WER-ES1602 is the industry's most versatile entry-level wide format color printer, combining CMYK 4 colors print, it offers print speeds that are up to 50 percent faster than the previous models in Standard print mode. Other advanced features include automated maintenance, superior media handling, CISS built inside and take-up system.
specifications
---
Specifications Of Epson ES1602 1.6 Meters Eco Solvent Printer
Printer Model
WER-ES1602
Print Technology
Drop-On-Demand Piezo electric Technology
Number of print-heads
2pcs XP600
2pcs 5113
PRICE (FOB SHANGHAI)
3480USD
3600USD
Color
CMYK
Resolution
1440 dpi
Ink type
Piezo Eco solvent ink
Ink supplying system
Auto ink supplying system
Maintenance of the Printhead
One button cleaning printhead by solvent
Assistant option
Auto feeding and take up system
Equipped
Heating system
Stage heating system incluidng back , front heating
Carriage height
2-5mm distance to be printing platform adjustable
Other Function
Light for carriage position
Media accetpable
Flex Banner, mesh, PVC vinyl, photo paper, PP paper, backlit film, wall-paper,window film etc.
Print width max
1600 MM
Speed
Mode
3pass 30 m2/h
3pass 50 m2/h
Production mode
4pass 25 m2/h
4pass 40 m2/h
Quality mode
6pass 18 m2/h
6pass 30 m2/h
Ultra quality mode
8pass 12 m2/h
8pass 20 m2/h
Interface
USB 2.0
RIP Software
Maintop, Photoprint
Linear rail
THK linear rail
Operation Valtage
AC 220 V 50/ 60 Hz
Power
500w printing system ,500W heating system( Fron heating 500w ,Rear heating 500w, Back heating 1000W)
Working environment
Temperature: 22℃ ~ 28℃; Humidity: 40% ~ 70%
N.W.
255kg
Size
3140mm*880mm*1320mm
Packing G.W.
310KG
Packing Size
3330mm * 760 mm * 1020 mm
Acoustic noise
<50dB
MOQ
1 Set
Leading time
Within 10 working days after receiving your deposit
Payment Terms
40% TT in advance for deposit , the balance should be paid before delivery
features
---
Easy Installation with WER-ES1602 Printer
1.Original DX5 F186000 second encrypted printhead .
2.Touch Panel is a friendly user interface.
3.Cheapest price in Eco solvent printer series.
4.Free RIP software.
Vibrant Images and Brilliant Results
Everything about the which produces images has been perfected. Four completely new Ricoh GH2220 printheads fire precision droplets in a wide print range. Every drop of ink falls exactly where it is intended, delivering beautiful images and uniform colors at production speeds.
Maximum Ink Quality at lower Cost
All new Eco Solvent INK is a major step forward in eco-solvent technology, delivering a wide color gamut and improved output, while meeting stricter environmental standards and user demands for lower costs, without sacrificing quality. 500ml pouches fit neatly into reusable cartridges and slide into a hidden ink bay for clean usage and less waste. Eco solvent INK does not require any special ventilation or environmental equipment.
New printing Technology Improves Accuracy and Saves Time
We haven't stopped exploration. The outstanding features our most advanced print technology to date. A new carriage and blade offer increased downforce and accuracy, allowing you to work with a wider variety of media.
Amazing Results More Effectively and Efficiently
Built to make everyday operation easier in the following ways:
Attractive and rigid new industrial design that minimizes vibrations to optimize printing
Illuminated and colored LED lights signal status of the machine
Improved motor and drive systems add durability for heavy users
Included take-up and optional drying units boost performance during high-volume, unattended operation
All new and Free RIP software Included
Now with native PDF processing, including files with transparencies
User-friendly interface
Predictive Ink Calculator
Built-in Color spot color libraries
Variable data printing
Support level adjustment tools
Legendary Quality and Reliability
Like all WER printers over the past 10 years, Which are built to provide years of reliable performance – even in the most demanding shop environments – and are backed by unmatched service and support. Care includes first-rate warranties, expert technical assistance, free webinars, informative "how-to" articles and videos and free software updates.
applications
---
WER Eco Solvent printers can not only print on PVC Flex banner, vinyl sticker, tarpaulin thus common outdoor medias, they can also print on Artist canvas, pear banner, beach banner, roll up banner, advertising tents, wall paper and wall sticker, photo paper, feather flag, teardrop flag, Tension fabric, etc.
Photo paper
There is A4 sheet and rolls two types photopaper with glossy or matt faces. Photographic paper, also called photo paper, glossy paper, used for flushing in traditional printing industry photo of a material, then applied to the outdoor & indoor printing industry is referred to as paper. This paper is the first choice for outdoor & indoor printing design rendering material.
accessories
---
No.
Item
Unit
Discription
Warranty
Function
Price
1
Printhead
Pcs
EPSON F186000 DX5 Second encrypted
Eject ink
2
Ink damper
Pcs
Control ink
3
Ink cap top
Pcs
Printhead moisturizingPrinthead moisturizing
4
Ink wiper
Pcs
Clean head surface
5
Ink cartridge
Pcs
Store ink
6
Ink pipe
m
Ink tranfer
7
Ink pump
Pcs
Ink absorb
8
Main board
Pcs
Control machine
9
Head board
Pcs
Control printhead
10
Power supply board
Pcs
Power supply
11
Printhead data cables
Pcs
Data tranfer
$9.99
12
Raster strip
Pcs
CR raster sensor's scale
13
Drag chain
Pcs
Load ink pipe&date cables
14
Carrige motor
Pcs
Control carrige moving
15
Paper feed motor
Pcs
Material feed
16
Control panel
Pcs
Printer status showing
17
Carrige timing belt
Pcs
Power transfer
18
Carrige raster sensor
Pcs
Detect carrige postion
19
Photoelectric switch
Pcs
PF motor control
20
Syringe
Pcs
Absorb ink&cleaning printhead
21
Print head tissue
Pcs
Wipe the waste ink
Price description
For the above items, there are some consumable parts (like printheads) and some Non vulnerable parts, so WER company just offered some of the prices as reference. If you need the exact price, please feel free to contact our sales staff.
| | | | | |
| --- | --- | --- | --- | --- |
| No. | Discription | Type | Unit | Quantity |
| 1 | Inner six angle screw | M5*10 | pcs | 90 |
| 2 | Inner six angle screw | M4*10 | pcs | 30 |
| 3 | Cross recessed pan head Combination screws | M3*10 | pcs | 10 |
| 4 | Cross recessed pan head Combination screws | M4*8 | pcs | 20 |
| 5 | Syringe 50ML | | pcs | 2 |
| 6 | CD and dongle | | pcs | 1 |
| 7 | Cotton swab stick | | pcs | 3 |
| 8 | Main power cable | | pcs | 1 |
| 9 | USB data cable | | pcs | |
| 10 | Truckle | | pcs | 4 |
Attention
---
1. The printer should be set in a place where there is no vibration, and where it is level and stable.
2. The printer parameter can't be changed.
3. Lubricant the moving parts (guide rail, shaft, etc).
4. Regular check cartridges and ink quantity, and empty the waste ink tank
5. Disassemble & assemble the parts of the machine must under the guidance of the after sale service personnel.