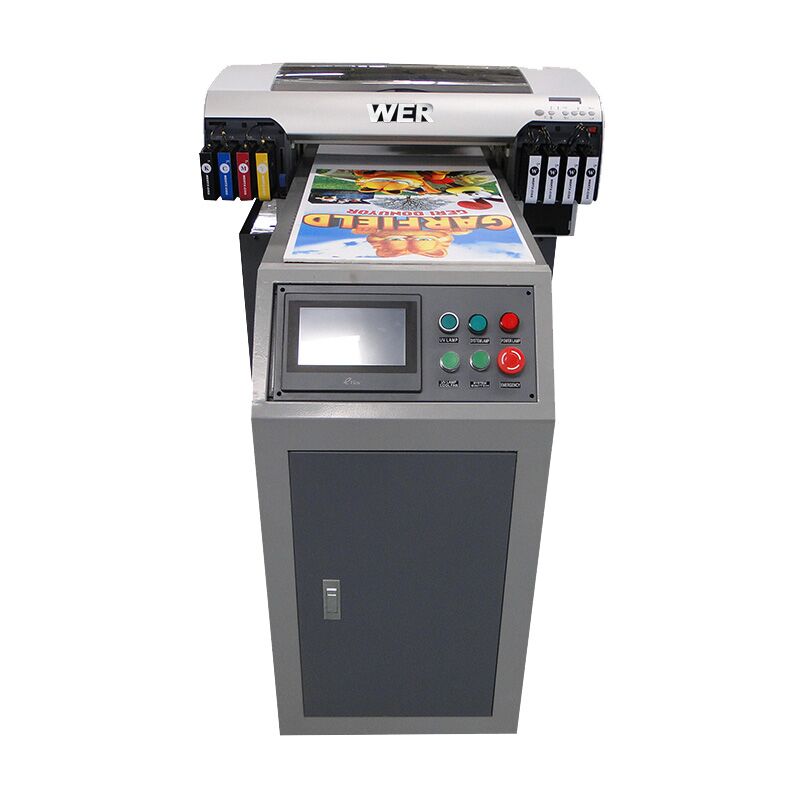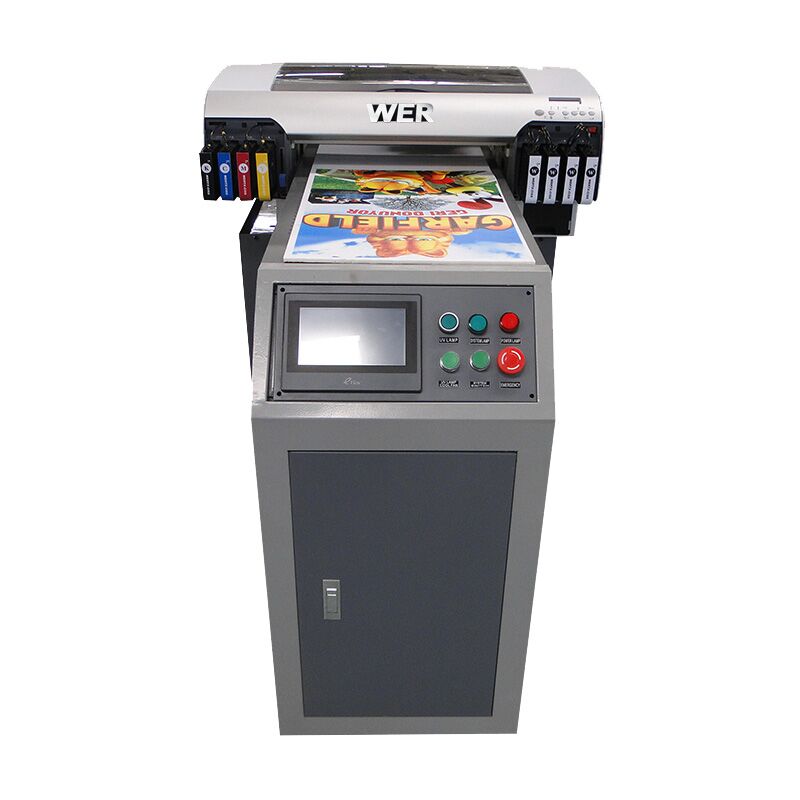 Overview
---
Precision printing,faster speed,and reasonable price
Building on the success of the WER A2 desktop uv printer, WER-EH4880 UV flatbed printer offers all the benefits of original epson 4880 printer. WER-EH4880 UV LED flatbed printer is equipped with LCD operation panel, auto cleaning function, vacuum suction platform, auto height adjustment.
Multi-function and perfect industrial design
With the capability to print into thick substrates, it offers the ability to produce a diverse range of prints for both indoor and outdoor use. It is ideally suited for applications such as phone case, promotional items, signs, pens, ceramic, glass and metal decorative panels and more. Its maximum printing size is 420mm*1200mm, which is enough to fit into most sign and graphic print shops. White, clear and color inks are available.
Distinguishing Features
---
Original EPSON DX5 F186000,                              Vaccum suction platform                 Media height adjuster, CISS system
which can meet the demand                              Which can hold the soft material                 built inside to keep pace with
of various printing works                                           tightly when printing                                   high-speed production
specifications
---
Specifications Of Epson EH4880 A2 Dual Head UV LED Flatbed Printer
Printer Model
WER-EH4880UV
Printing method
Drop on Demand ( non-contact micro piezoelectric ink-jet printing technology; micropiezoelectric printing technology; VSDT; intellingent nozzle cloggingsensor system ). 180nozzle/color*8; VSDT.
Head type
One Epson DX5 head
Height of print head
1.2mm/2.8mm above media, adjustable
Max Printing size
16.5"47.3" (42*120cm)
Accteptable media width
43cm
Material's Height
1cm~15cm adjustable
Printing resolution
2880*1440dpi
Ink Type
UV Curing ink
Ink color
CMYKWWWW or CMYKWWVV or CMYKCMYK
Media sensor
Table moving
Ink Supply Method
Independent continous ink supply systerm
Printing Speed
Standard quality
17 m2/H
High quality
10 m2/H
Ultra quality
8 m2/H
Lamp type
LED Lamp ( saving energy and environmental friendly )
Languages
English, Chinese
Applicable Industry
Rigid PVC board, glass, plastic, organic board, leather, rubber, special paper,
metal, wood, porcelain, PVC, ABS, acrylic, aluminum, iron sheet, ceramic tile,
glass, marble, granite, paperboard etc
Power consumption
136W/Hour.
Ink consumption
10ML/SQM.
Auto adjustment function
Nozzle automatic detection;print head automatic aligning
Height adjustment
Auto Sensor
Normal working environment
Temperature 10-35Celsius Humidity 20-80RH
Power/ Voltage
About 75W / 110V/220V 50-60HZ
Operational software
Photoprint 10th Edition , Ultraprint (Window XP Or Window 7)
Machine confiauration
USB line; driving software; power line; instruction book; washing and ink-joiner tool
Operation system
Acro RIP Software and Ultraprint for Windows XP or Windows 7
RIP software
Acro RIP Pro(White)for Flatbed Printer Ver8.2.3
Media feeding system
Auto or Manual
Packing & Delivery:
Gross weight
200 KGs
Packing
plywood
Packing Size
202*95*135cm
MOQ
1 set
Delivery
7 working days after receiving the deposit
Substrate for printing
---
EH4880UV,UV PRINTING is one of our newest products into the market with the following features:
1.White UV ink creates a very opaque image, allowing you to print vibrant colors onto virtually any colored or transparent substrate with 3D textured result.
2. EH4880UV has small format flatbed printers which is producing direct print onto ceramic, transparent glass,acrylic, plastic,and flexible vinyl materials even with 3D textured printing result.
3. The printing is drying as well as printing and you get ready and perfect products immediately after printing.
4. Photo printing quality. Equipped with EPSON printer head DX5 ,the BR UV direct printing system realize the real photo printing quality with 2880*1440DPI.
5. Long durability after printing. Applied with the USA UV lamp and UV ink technology,BR UV direct printing system is full of best combination between the UV lamp wave length and ink characteristics to ensure the best printing quality.
6. Easy operation. Based on Epson printing system, UV direct printing system is maximizing the advantage of EPSON printers.And the operation is just like office EPSON printer.
7. Low printing cost. UV direct printing system is with CISS printing systems with most economical cost in terms of consumables.
8. Low cost for maintenance and spare parts.
Main parameters
---
1.Easy white printing with easy operation.
2.3D textured printing result onto any substrate from transparent glass/acrylic to dark ceramics. Advanced RIP printing. Compatible with JPEG, PDF, EPS,etc format directly.
3.Photo printing quality up to 2880*1440DPI.
4.Wide applications from Signage,Name badges and photo IDs,Plaques and awards and Customized promotional items to much more.
5.Affordable cost for UV printers.
6. All applications working sizes. 42*120cm.
7.Refillable ink cartridges. We apply the continuous ink supply systems and we can just refill the inks when necessary.
8. Long durability after printing. Water/sunshine,etc proof.
General View:
---
EH4880UV UV flatbed printing system is orientated for covering all applications including signage, in/outdoor decorative industry,promotional items, awards, labeling industry, etc.
Applying the golden DX5 printer head with 8 champers in 1440 nozzles, EH4880UV flatbed printing system can print on any materials with vivid and accurate effect.
Installed with UV newest control Software, EH4880UV flatbed printing system is the first model which can realize simultaneous white ink and colorful ink printing. What's more, the operator can easily arrange and fix the printing position/ size/ printing speed/ink channels/ink limit/white ink print/printing area and printing result in few steps.
Using our professional and unique UV inks, the printer works more smoothly and less daily maintenance is needed., as a result of this, head clogging is prevented, the color can be printed alike the real image, also pure white color is realized.
Advantage Top:
---
EH4880UV flatbed printing system is a large format in size and also have a high precision in accuracy printer which can print tiny letters readable. Vivid color and white ink supporting can ensure the printer to be used in unique and professional applications, above from this , with 3D texture effect it can print a sleek surface into an embossment, thus the art value of the goods is enhanced. Since put into the market in 2012, EH4880UV flatbed printing system has been served in the area of awards, out/indoor signage, wood, ceramic tile, home decoration etc.
Popular applications
---
As the low cost and daily used goods as hard materials printing like plastic, wood, acrylic, metal, glass, crystal, leather etc... it's always widely used as a free promotional gift in exhibitions, promotional activities, enterprise stationery. etc
Customized pen printers allow to print photo quality, multi-colors photos, logos and text directly on various products, imported inks ensure the long ink durability and scratch resistance. UV LED ink can print all colors of materials with white ink.
Lighting features:
---
1. Touchable colors: 3D textured printing onto any materials; Not only read the color but feel the color by fingers.
2. Ideal printing process: White and color printing simultaneously and seamlessly.
3. Anything to print: Compatible for hard rigid substrates and flexible materials without cracking.
4. Whatever you see, whatever you print:C, M, Y, K four colors produces all colors and gradients of real picture.
5. Unbelievable Low ink cost: refillable CISS ink system saving more than 50% ink cost.
6. LED automatic substrates sensor system avoid the strikes of the printhead.
7. Offer printing ready while waiting service is benefited by the instant dry during the printing.
8. Easy leave: Automatic ink system cleaning by time setting prevent head clog
9. Permanent ink chips avoid frequent resetting.
10. Longevous machine: Long life of UV lamp up to 10,000 working hours, advanced build quality ensure industrial continuous printing.
11. Quietly working without any noise in working place.
12. Glossy effect: optional varnish/ Clear printing provides glossy effect possibility.