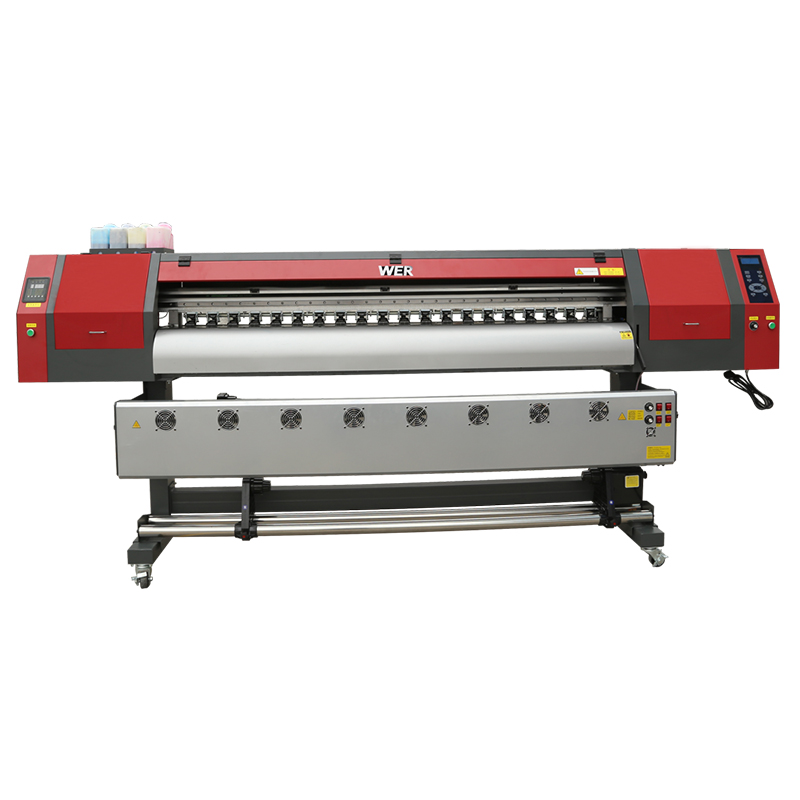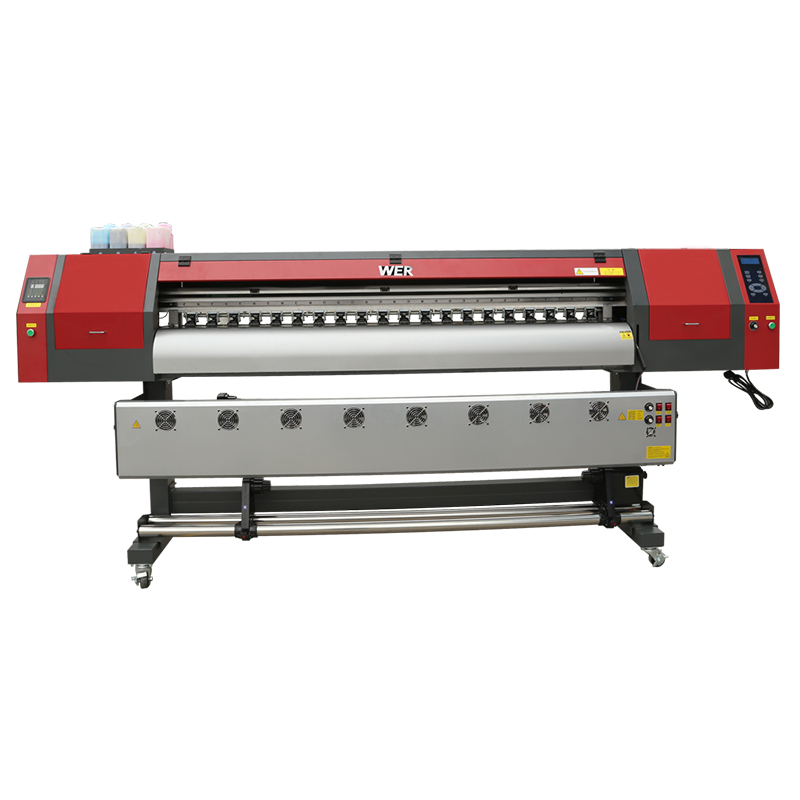 Product Descripltion
---
Owing to the widespread use of the Internet, the number of orders for personalized/customized design products has been increasing.
To meet the latest market needs, Mimaki developed the Tx300P-1800. This entry-level model fits perfectly in places with limited floor space, such as design studios or school facilities.
The WER-EW1902 delivers high-quality printing on a wide range of textiles.
Product Specification
---
Printhead
On-demand piezo head (4 in-line printheads)
Print resolution
360 dpi, 540 dpi, 720 dpi, 1,080 dpi, 1,440 dpi
Maximum print width
1,920 mm (75.6 in)
Maximum media width
1,920 mm (75.6 in)
Package size
2L Ink pack
Media thickness
1.0 mm or less
Rolled media weight
40 kg (88 lb) or less
Please note that the above maximum weight applies on a printed roll including ink weight.
Certifications
VCCI class A, FCC class A, ETL UL 60950-1,
CE Marking (EMC, Low voltage, Machinery directive, and RoHS),
CB, REACH, Energy Star, and RCM
Interface
USB 2.0 Hi-speed / Ethernet 1000BASE-T
Power supply
Single-phase AC100 - 120V / AC200 - 240V
Power consumption
AC100V: 1.44kW / AC200V: 1.92kW
Operational environment
Temperature: 20 - 30 °C (68 - 86 °F)
Humidity: 35 - 65% Rh (Non condensing)
Dimensions (W × D × H)
3,200 x 965 x 1,857 mm (126 x 38 x 73 in )
Weight
255 kg (562.2 lb)
Characteristic
---
*New printhead allows printing on various types of textile
While maintaining high-quality printing, high gap settings of the printhead allow printing on not only thick textiles but also various woven patterns or raised fiber surfaces.
*Reliable textile feeding mechanism ensures stable printing
Reliable and unique feeding mechanism including front and rear tension bars ensures stable textile transportation for providing quality printing.
*WER's print technologies for achieving beautiful printing
- WER Advanced Pass System 4 (MAPS4) reduces banding.
- Superior inkjet technology
*Uninterrupted printing solutions
- Nozzle Check Unit (NCU) automatically detects and cleans clogged nozzles.
- Nozzle Recovery System (NRS) uses only good nozzles as substitutes, when the clogged nozzles are not recovered after cleaning.
- WER Bulk Ink System 3 (MBIS3) for long-time continuous printing.
*Maximum print speed (66 m2/h) achieves high productivity
66 m2/h maximum print speed with 4-color printing and 35 m2/h with 6-color printing.
- 66 m2/h: 4-color draft mode / 540 × 360 dpi / 2 pass (Sb420 ink)
- 35 m2/h: 6-color draft mode / 540 × 360 dpi / 4 pass (Sb420 ink)
*An abundance of textile inks to choose from. Textile pigment ink and sublimation dye ink can be loaded at the same time [Hybrid function].
Mimaki offers five ink types-sublimation, dispersant, pigment, reactive, and acid-to meet various application needs. For providing affordable ink prices, inks are packed in large volume packs (2 liters) and can be installed to MBIS3.
*High-performance RIP software TxLink3 Lite
The TxLink3 Lite offers simple RGB and CMYK color replacement on raster and vector data, as well as the ability to produce different color patterns. Moreover, various color replacement functions can represent desired colors.
* TxLink3 Lite or RasterLink6 is bundled according to a user' s choice.
Features
---
New printhead allows printing on various types of textile
While printing on raised fiber surface textiles, a high head gap setting is required to prevent contact between the printhead and the nap. In conventional models, such gap conditions reduce the accuracy of ink droplet placement. However, the new printhead ejects ink droplets at a high speed to maintain the straightness of the droplet direction, and accordingly accurate ink droplet placement is achieved. This enables high-quality printing on napped or thick textiles.
Reliable textile feeding mechanism ensures stable printing
Stable textile feeding and transportation are crucial for direct textile printing. The tension applied to the textile during printing is varied according to changes in the outer diameter of the front and rear rolls. The Tx300P-1800 monitors the applied tension and uniformly applies the optimum tension using the front and rear tension bars. Thus, high-quality printing is achieved during high-speed printing or even when using a large textile roll.
Mimaki Advanced Pass System 4 (MAPS4) reduces banding
Mimaki's unique anti-banding technique MAPS4 is an advanced version of MAPS3. To prevent banding, swath boundaries are overprinted, whereas boundaries prone to banding are printed with fewer ink droplets.
Superior inkjet technology
Mimaki's superior inkjet technology accurately places the ink droplets without losing their perfect circularity. This ensures that texts, lines, and edges are clearly and sharply printed.
Beautiful and vibrant print results
*This low-sedimentation ink achieves stable and beautiful printing.
*Moreover, heat-press transfer printing yields vibrant colors by virtue of the high-density printing.
Continuous operation support pack minimizes the downtime
The Nozzle Check Unit (NCU) detects nonfunctioning nozzles and automatically cleans them. If the nozzles fail to operate after cleaning, defective nozzles are replaced by non-defective ones until a technician arrives, and printing is continued. This feature enables uninterrupted print operations and continuous productivity.
Standard features of MBIS3 and UISS deliver continuous printing for a long time.
Large two liter ink packs are installed in MBIS3*1 for long-time continuous printing to reduce operating cost.
As soon as one ink container is empty, UISS*2 automatically provides ink from another container without any interruption to printing.
These systems supply inkcontinuously to ensure unattended continuous printing.
*1 MBIS3: Mimaki Bulk Ink System3
*2 UISS: Uninterrupted Ink Supply System
Maximum print speed (66 m2/h) achieves high productivity
The Tx300P-1800 optimizes the printing speed and quality to produce the desired print results. For this purpose, it provides a wide range of printing modes, from the draft printing mode (which operates at the maximum speed of 66 m2/h) to high-quality printing mode.
* DD400, TP400, Rc400, Ac400 inks cannot print in draft mode.
An abundance of textile inks to choose from.
Textile pigment ink and sublimation dye ink can be loaded at the same time [Hybrid function].
Mimaki offers five ink types -sublimation, dispersant, pigment, reactive, and acid- to meet various application needs.
It is now possible to choose textile pigment ink (TP400) and sublimation dye ink (Sb420) at the same time, making possible to print with only one machine on cotton, hemp, polyester and similar textile.
Superiority
---
1.Low MOQ:It can meet your sample display business very well.
2.OEM Accepted:The products can be customized
3.Good Service:No any excuses for 24 hours service
4.Good Quality:We have strict quality control system, good reputation in the market
5.Fast & Cheap Delivery:We have big discount from forwarder and aircargo (Long Contract)
Our Innovation
---
1.Quality & Service:At GETWIN, our priority has been providing our customers with great quality products and superior customer service with no excuses.
2.Quick Lead Time:We're dedicated to completing all orders in the fastest time with commitment.
3.Competitive Prices We continuously strive to find ways of reducing our production costs, and lower the purchase cost for you.
4.Brand Awareness:The goal of any strong brand is achieve a level of awareness that delivers the idea of quality, value, service and responsibility to all of your potential customers.
5.Special Offers:In order to maintain our competitive edge, we are running special offers on our promotional products, consumable parts and customized services.Please contact our sales team to see how we can help you save a lot of money.
Order Guide
---
1.Inquiry for professional quotation and patient communication.
2.Confirm the price, lead time, sample, payment term etc to complete orders.
3.WER sales send the PROFORMA INVOICE to you with GETWIN company seal.
4.Customer make the payment for deposit and send us The Bank Receipt.
5.Initial production will be arranged in terms of the lead time, we will inform customers in first time if any uncertain matters will happen, adjust the new lead time.
6.Middle Production will send photos to show production schedule which you can see your products in.Confirm everything goes well and let you relax.
7.End Production will send the photos to you for approval, we will arrange the shipment after approval You can also arrange the third party Inspection before shipment.
8.Clients make payment for balance and GETWIN sales will ship the goods.Also can accept
The Payment Term of Balance against B/L Copy Or Sight L/C payment Term.Inform the tracking number and check the status of parcel for clients or original B/L for sea-shipment.
9.Order can be say "finish" when you receive the goods and satisfy with them and our service.
10.Feedback about Quality & Service, Market Feedbacks & Suggestions, we can do better.
Excellent After-sale Services
---
1.One year warranty
You can discuss operation and maintenance with our technician online support service by Skype, MSN etc.Remote control will be provided upon request.
2.Free exchange of new components
Our quality is guaranteed 100%, the spare parts can be replaced within one year free of charge includes the airfreight by express, except for the print head and some damageable parts.
3.Free online consultation
The technician will keep online.No matter what kind of technical questions that you may have, you would get a satisfactory answer from our professional technician easily.
4.Free onsite installation and training
If you are able to help us with getting the visa and also would like to bear the costs involved like flight tickets, food, etc, we can send our technician to your office, and to give you a free installation and training for as long as you know how to operate it